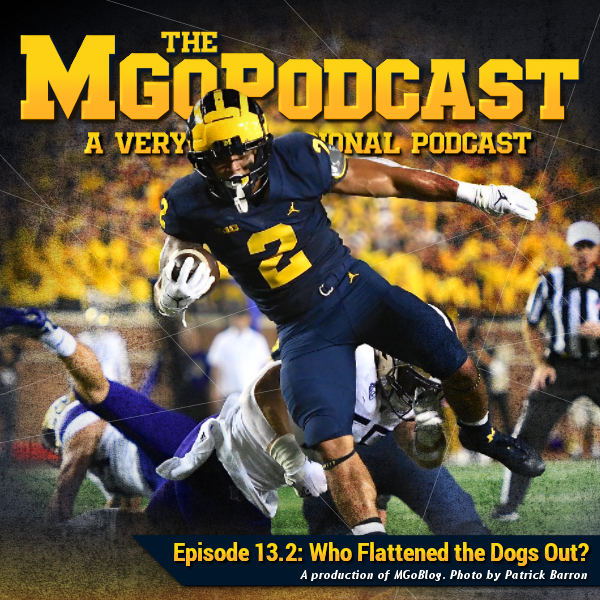 1 hour and 32 minutes
The Sponsors
Thank you to Underground Printing for making this all possible. Rishi and Ryan have been our biggest supporters from the beginning. Check out their wide selection of officially licensed Michigan fan gear at their 3 store locations in Ann Arbor or learn about their custom apparel business at undergroundshirts.com.
And let's not forget our associate sponsors: HomeSure Lending, Ann Arbor Elder Law, the Residence Inn Ann Arbor Downtown, Michigan Law Grad, Human Element, The Phil Klein Insurance Group,  Information Entropy, the Raw Power app for iOS by Gentleman Coders, SignalWire (use the code MUPPETS and they'll buy your team lunch!), and this episode was supposed to be recorded at Prentice 4M, on the other end of The Bridge. Take their survey to decide what to do with Lucky's.
1. Offense vs Washington
starts at 1:00
Vastardis and co. were mauling Tuli and Taki. Lots of interesting runs with pullers going opposite directions. First play: T pull with a backside read. 2nd play: TE crosses one way, Jet and G pull the other way. OL going to come in for huge scores.
UW leaving 2 safeties back, playing one high, so why not? UW had LB flying outside when RB did, were not going to get edged. YOU CAN BLOCK BEHIND THE LINE GUYS! Erick All did work. Honigford is replaceable. Roman Wilson cannot block. Bell missed.
CADE: Bad reads. Didn't have a lot of time but he spent too long on 1st reads and missed 2nd reads.
[The rest of the writeup and the player after THE JUMP]
2. Defense vs Washington
starts at 32:37
Now you believe me about John Donovan. Why are you running on 4th and 4 when you haven't run before? Why aren't you reading an edge when Hutchinson is coming? Josh Ross much better game. Was popping OL. Mike Morris is happening. Hutchinson by god.
Wanted to get Giles Jackson out in space and M had that anticipated. Tried to test Dax Hill on the edge once. Kris Jenkins is happening. Might be a little small still but breakout candidate. Live action for Rod Moore.
3. Hot Takes, Special Teams, and Game Theory
starts at 51:20
Refs had just one (two but the 2nd was overturned) bad call. Their old fashioned punt led to that 4th down play because they have an upback. Good decision to go on 4th and 1, but decision to pass on 2nd and 2. UW: Why not have Jackson return? M: Why Kolesar if he dropped one? Michigan Foug'd one to Jackson and it looked scary until German Green hewed him down. Moody good from….60?
4. Around the Big Ten, wsg Jamie Mac
starts at 1:05:51
QUACK! We look for more MOONs on the schedule.
MUSIC:
"Mr. Brightside"—cover by Jada Facer
"I Ran"—cover by Janet Devlin
"Who Let the Dogs Out"—cover by Matt Mulholland
"Across 110th Street"