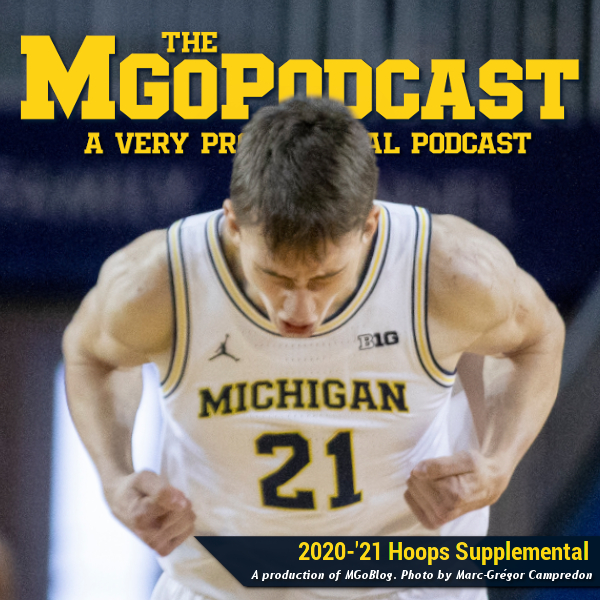 This is a supplemental podcast. Normally we use a bye week to preview the upcoming basketball season. But since we had none, we recorded segments across various MGoPodcast sessions. Here they are together, plus two more segments on opponents and Michigan's place in the pecking order that we recorded just for this episode.
We are, as always, presented by UGP & The Bo Store, and if it wasn't for Rishi and Ryan I might be doing a podcast on how the election might affect environmental regulations in water & wastewater. Our associate sponsors are also key to all of this: HomeSure Lending, Ann Arbor Elder Law, the Residence Inn Ann Arbor Downtown, Michigan Law Grad, Human Element, The Phil Klein Insurance Group, FuegoBox, and Information Entropy.
1. The Guards
starts at 1:00
A bit shaky situation but a lot of options. Mike Smith is hard to extrapolate because he's a spot-up shooter in a bad league who probably should have had more assists if his guys could convert at all. Small so may be a defensive liability. For those situations you have Eli Brooks, who goes on Three-li streaks and brings a defensive presence, but we can directly correlate his shooting to bad defenses, and his floater hasn't happened yet. At the two we're probably looking at Chandee Brown and Franz Wagner (when he's not the three). Franz came on late last with his drives, though he's going to need to be much more of a creator. Hope the wrist injury explains the shooting issues. Defense really came along—still growing and has those gumby arms. Down-roster contributions as they come: can Nunez at least be a shooter? Can we get more than freshman stuff out of Zeb Jackson?
[The rest of the writeup and the player after The Jump]
2. The Wings
starts at 22:07
They have a lot of guys with a lot of length. If Franz is really 6'10" now he fits in here or as a very weird guard. Livers and Chaundee Brown give them.
3. The Bigs and Rotation Predictions
starts at 44:07
The minutes crunch pushes three potential starters into this spot. We think Johns is going to get the most minutes because he can quasi-start at the four along with all the wings, and gives them the best late-game opportunity. He's streaky. Big Country is a great slop-baller with legit post moves but limited defense. The wild card is the 7'1" freshman, who shoots left-handed, and can do so.
4. Around the Big Ten, Part I: The Lows and the Knives
starts at 1:04:18
Year two is the second year zero under Hoiberg at Nebraska. Northwestern might be about to hit their floor. Penn State is back to being a dude and some guys. Maryland lost its two stars and hasn't recruited nor developed enough to function without that gravity. Minnesota is thin but we do like some of their roster's parts. Rutgers is back in headbands, and brings back nigh everybody, but can they continue to play so inspired in a quiet RAC? Indiana is their usual selves, and constructed terribly: who plays double bigs these days? Purdue, ah Purdue, you've got a center it was worth losing Haarms for, but you don't have two centers and the schedule is very compressed.
5. Around the Big Ten, Part II: The Contenders, and our Predictions
starts at 1:33:15
Illinois, Iowa, Michigan State, Ohio State, and Wisconsin, plus Michigan and where we think they'll land in the standings this year. Illinois is Maryland last year: a great guard and a great big, but not quite deep. Iowa is very deep at scoring, with the Kenpom Player of the Year Who Can't Defend leading the way, and some majorly important parts coming back. MSU is missing their PG and C but they're MSU and Izzo will have a new generation configured. Ohio State lost the Wessons but has an ace coach, might be too thin at center. Wisconsin can play five out so it doesn't matter that they're Wisconsin-level talent. Michigan is deep with a lot of options but there's no way to get a complete team on the court.
MUSIC:
"Flight of the Valkyries"—Daniel Bryan walk-up version
"I Believe in You (You Believe in Me)"—Johnnie Taylor
"100 Days, 100 Nights"—Sharon Jones & the Dap Kings
"Different Strokes"—Syl Johnson
"How Do I Get There"—Don Bryant