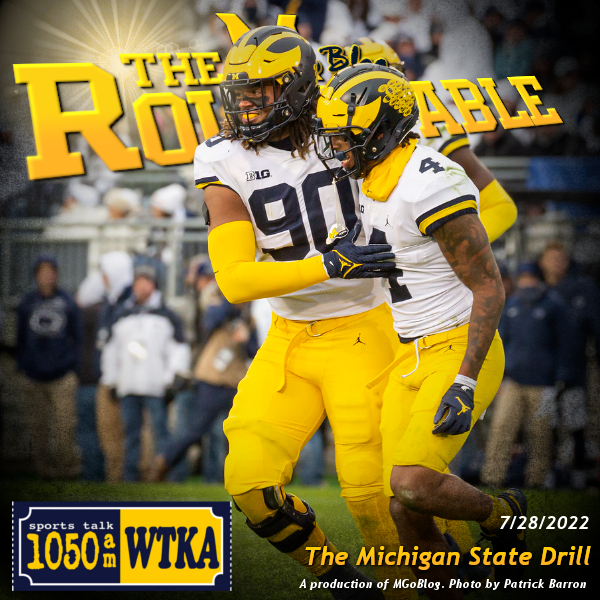 Zayden High: on campus right now and blowing up. Isaiah Livers but Tall? YES PLEASE!
Big Ten Media Days: Kevin Warren is talking about how exciting it is that our teams will be playing at 11pm. We didn't get to talk about Jim Harbaugh's annual "You didn't check with us, did you?" comment about the Big Ten itself signing an NIL deal with its players.
Harbaugh's defense optimism with the No Names. He's talking about the Ravens Amoeba stuff that they didn't have to do last year because why have Ojabo or Hutchinson drop into coverage when you can just rush them? They should be able to get more varied in the secondary however because they don't have the slow guys they have to protect in zone. Play Cover Zero and you can make up some nasty blitzes.
Don't underrate how good Mike-Mo is going to be, also don't underrate how good Hutch was.
What is with this fanbase and forgetting Roman Wilson? Brian: He's kind of the Steve Breaston in all of this.
Cade vs JJ: Cade is a better QB than people credit him. Improvement there is hitting digs instead of checking down. Washington got to him—next time that happens McCarthy takes the wheel, because his running ability brings so much to the run game.
Craig: Do we have too many guys? Seth: No that's called a Team.
OL: If Sherrone gets improvement from the team that won the Joe Moore they should rename it the Sherrone Moore. Could they? Vastardis was great at getting them organized. Trente Jones is tracking towards being a good one.
Tuck Comin'? More worried that he's a Duffy than than a Dantonio. MSU is on the cutting edge of recruiting from other teams' rosters, pay to play, and Michigan is on the other end.