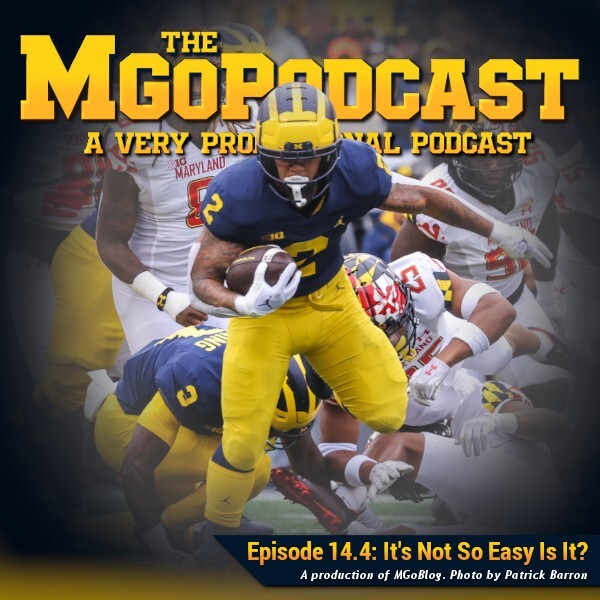 2 hours and 9 minutes
The Sponsors
Thank you to Underground Printing for making this all possible. Rishi and Ryan have been our biggest supporters from the beginning. Check out their wide selection of officially licensed Michigan fan gear at their 3 store locations in Ann Arbor or learn about their custom apparel business at undergroundshirts.com.
And let's not forget our associate sponsors: Peak Wealth Management, HomeSure Lending, Ann Arbor Elder Law, Michigan Law Grad, Human Element, The Phil Klein Insurance Group, SignalWire (use the code MUPPETS), Prentice 4M, where we recorded this, Team Fan Club, and introducing The View from the Cheap Seats podcast by the Sklars, who will now be joining us for the Hot Takes segments. Please go subscribe and like their podcast and leave your hot takes about this game in the reviews.
1. Offense vs Maryland
starts at 1:00
There was some First Actual Game clunkiness but the boxscore looks fine! Was that actually the fastest touchdown in Michigan football history? JJ missing some deep shots isn't concerning, more concerning is him breaking the pocket to run around and then run around some more and then run around some more. There was also some poor decision making, he looked like a second year quarterback. So Blake Corum is pretty good. Incredible awareness and elusiveness. Was also able to grind out short yardage which was the only part of his game that was missing. Brian officially calls him the best running back he's ever seen at Michigan. Pass protection was pretty good. Schoonmaker's run blocking has been fantastic and offers NFL-level complexity to the run game. Tight end depth is good enough that they might not actually miss Erick All too much moving forward. Can't run a trick play based off of a play you didn't run.
[The rest of the writeup and the player after THE JUMP]
2. Defense vs Maryland
starts at 36:50
Very little pass rush which is concerning. Tagovailoa had all day to pass. Interestingly when Maryland brought in their backup the pass rush started to work. A lof of things that Seth said wouldn't translate from Colorado State have not translated into this game. Some of the blitzes weren't weird enough. Linebackers were not shooting the gaps, Nikhai-Hill Green was greatly missed. The secondary looked great, though! Mike Sainristil has absolutely crushed all expectations this season. Shout out to RJ Moten for batting down the ball on his own to make the interception. Maryland will probably end up being one of the best offenses Michigan plays so in hindsight this was a pretty solid performance as a whole. There were some flagrantly missed holding calls. 
3. Hot Takes, Special Teams, and Game Theory
starts at 1:05:24
Takes hotter than Adrian Martinez any time he plays Oklahoma. Talking about going for it on 4th down - do you call a timeout? Seeing Miami run plays that didn't work for Michigan last year was... interesting. Can't punt around mid-field if you're just running it down their throat, especially when Blake Corum is running for 8 yards per carry. Special teams should've kept kicking it to Tai Felton instead of through the endzone... just in case. 
4. Around the Big Ten With Jamie Mac
starts at 1:37:05
Forty five minutes of Minnesota vs Michigan State wooo! (Not actually, sorry). This domination is even worse than the final score. Michigan State has two division II transfers in their secondary. Kenneth Walker deserved two Heismans for what he did with this team last year. Minnesota is suddenly the favorite to win the West. Penn State played Central Michigan pretty even for most of the game which is fairly alarming for the Nittany Lions. Sean Clifford was 1-for-11 on "shots downfield". How does... Iowa score on Michigan? Their turnovers don't seem random. Iowa has had 40 drives start in their own territory, 15 of them have entered opposing teams' territory, and only six of those have resulted in points. 1-11 Northwestern whose only win is Nebraska and 1-11 Nebraska with zero power-five wins is on the table! Florida Atlantic outgains Purdue by 80 yards but Purdue wins, though they lose their starting QB. They fumbled the kneel down! Welp, Ohio State looked good, but Wisconsin didn't even look like they were trying. This was just every other Ohio State vs Wisconsin Big Ten Championship Game. 
MUSIC:
Too Close for Comfort Theme Song
"Get On This"--Ugly Duckling
Blossom Theme Song
"Across 110th Street"