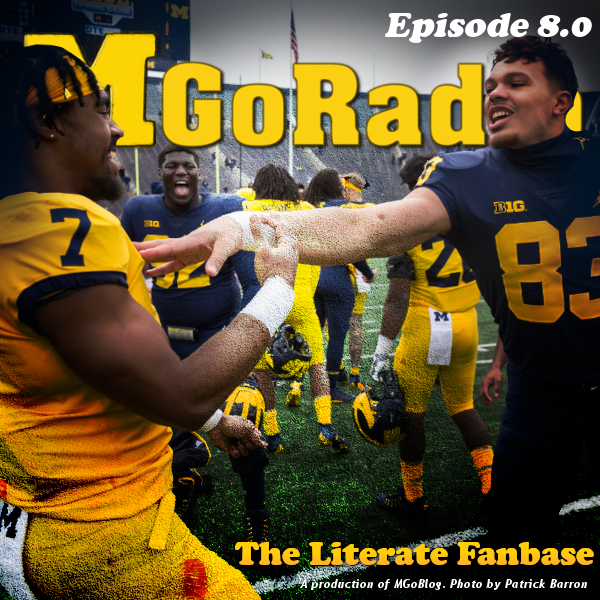 The Sponsors
Thank you to Underground Printing for making this all possible. UGP makes custom apparel such as t-shirts and sweatshirts and was founded by 2 Michigan alums over 20 years ago. They have 3 retail locations in Ann Arbor and offer thousands of University of Michigan athletic products for sale, ranging from clothing to accessories and memorabilia. Check them out at ugpmichiganapparel.com or check out our selection of shirts on the MGoBlogStore.com!
And let's not forget our associate sponsors: Peak Wealth Management, HomeSure Lending, Ann Arbor Elder Law, Michigan Law Grad, Human Element, The Phil Klein Insurance Group, Prentice4M, and we are recording this on SignalWire.
The Video:
[After THE JUMP: Things discussed.]
--------------------------------------------
1. Colorado State Preview
Starts at 0:10
They took Nevada! The transplant is going to take some time but we think they'll be decent eventually. They imported the most important parts of what was going to be Nevada's offense, including a slot bug, Melquan Stovall, who's going to give Rod Moore or Mike Sainristil all they can handle. Last year's CSU is basically useless for scouting purposes except their DT and LBs gave Iowa the business.
2. Ben Mathis-Lilley
starts at 14:57
Inspired by an MGoBlog post, Ben Mathis-Lilley set out to write a comparison of college football cultures until his publisher said Michigan fans read books. So he wrote The Hot Seat: A Year of Outrage, Pride, and Occasional Games of College Football. You are in it! You can buy it here. New Yorkers: He will be at the Dram Shop with Jane Coaston on September 13th.
3. Offense After Previewing
starts at 30:47
Offensive line: forgot how young these guys were! Admit that they might not have been the #1 OL if you go over the course of the entire season; the voters of that award clearly got excited for Ohio State. But so did we! Brian and Seth go back and forth over whether Erick All is a star. Receivers don't have a hole—going to be hell to figure out how to stop them. More of a believer in McNamara now.
4. Defense After Previewing
starts at 53:42
Alex thought athleticism vs the spread was the main reason Colson kept getting out there instead of Hill-Green. Brian doesn't say it's going to happen but if a DE does pop it is probably Derrick Moore. More optimistic about a lot of defenders, including Mazi Smith and DJ Turner.
Featured Musician:
Detroit/Ann Arbor's Summer Like the Season (band's site, instagram) is a 2022 Kresge Artist Fellow form whom I was very late to the party (read about them on Metro Times). I sent a message, and lead singer/drummer/guitarer Summer Krinksy replied from a umich.edu address. The trio's vibe is sorta Metric, sorta St. Vincent, very DIY, and our clips can't do it justice because they build songs like how I try to write—taking different elements and teasing them until they all come together in a crescendo that makes sense. Songs:
Also because Across 110th Street will get our Youtubes taken now now, the opener and outro:
"The Employee is Not Afraid"—Bear vs. Shark
"Ruska Vodka"—Motorboat
THE USUAL LINKS: