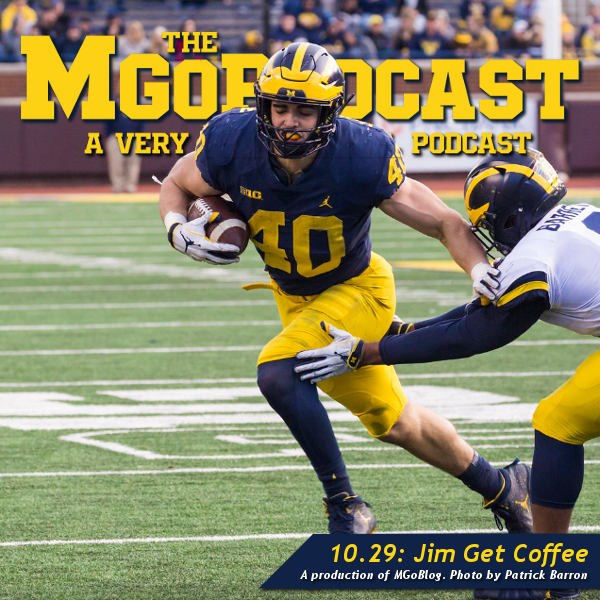 The Sponsors
This show is presented by UGP & The Bo Store, and if it wasn't for Rishi and Ryan nobody would get our jokes. Our other sponsors are also key to all of this: HomeSure Lending, Ann Arbor Elder Law, the Residence Inn Ann Arbor Downtown, the University of Michigan Alumni Association, Michigan Law Grad,Human Element, Lantana Hummus, the Phil Klein Insurance Group, and a possible farewell to Peak Wealth Management, who is going to win our bracket thanks to State winning tonight so I'm not talking to him right now (but you still should).
--------------------------------------------
1. Speed In Space
starts at 1:00
Too much open practice? We've got families, Jim. The offensive line feels…good? We would take either right tackle—Jalen Mayfield killed a guy. This might be on our DL as well. Sainristil! Also might be on the D. But Black! That's almost certainly on the D. But Gattis and tempo and guys in space…this is real people.
2. Don Brown's Guys
starts at 35:56
Josh Metellus should move to free safety to make way for a hundred Daxton Hills. Backup cornerback is now on the list of concerns. Kemp can't hold up to Cesar Ruiz; maybe that's a Ruiz thing? Sad seeing McGrone on the next year team—had high hopes this year. Stock up: Aidan Hutchinson. Jeter looks fine. Hill and Ambry can't come off the field, unless they find more Dax Hills.
3. Iggy and Poole to the NBA
starts at 1:05:10
Well that sucks. What kind of NBA takes these guys and not Cassius Winston? What does Michigan do now? Can Mo Wagner pay his brother? Can he pay Lester Quinones?
4. Gimmicky Top Five Signs We'd Fly
Starts at 1:27:24
We went for douchey—like in our Twitter mentions for ideas for this douchey. Probably should have done cards.
MUSIC
"God, Help Me"—Leah Blevins
"Lisztomania"—Phoenix
"The Christmas Hippo Song"—Gayla Peevey
"Across 110th Street"
THE USUAL LINKS