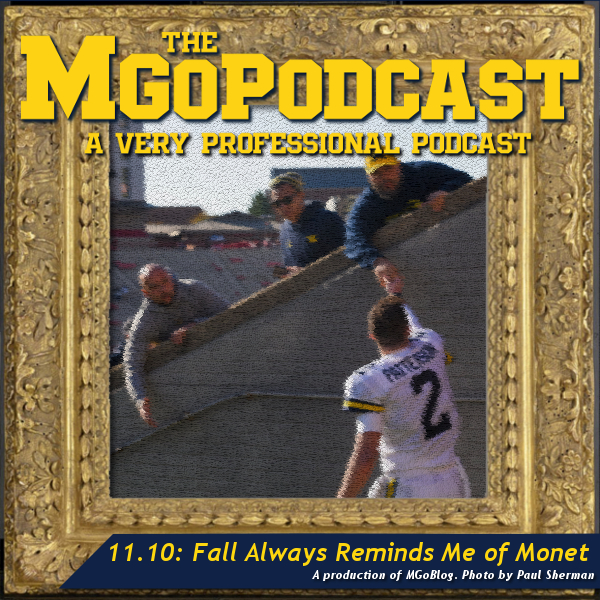 They can't get that caliber of recruit anymore.
THE SPONSORS
We can do this because people support us. You should support them! The show is presented by UGP & The Bo Store, and if it wasn't for Rishi and Ryan we'd be all be very sad ex-Vox employees with "real" jobs.
Our other sponsors are also key to all of this: HomeSure Lending, Peak Wealth Management, Ann Arbor Elder Law, the Residence Inn Ann Arbor Downtown, the University of Michigan Alumni Association, Michigan Law Grad, Human Element, The Phil Klein Insurance Group, FuegoBox, Perrin Brewing, and The Athletic
--------------------------------------------
[After THE JUMP: colors]
1. The Offense
starts at 1:00
Tip your Uber drivers. Bifurcation of the fanbase between people defending Shea Patterson and those blaming him for everything. Liked the called QB run and the direct snap near the goal line. McCaffrey takes are too harsh. Are we disappointed? Sorta?
2. The Defense
starts at 32:35
Another sub-200 yard day obliterated by garbage time. Shutout also obliterated by the return. Feel bad because they were running Counter and our DTs aren't doing anything on them. Buying stock in NOT Booger McFarland's kid: stiffarmed McGrone. Josh Ross dressed, did not play, so redshirt still available. Metellus was playing down, they got him on the 3rd and 1.
3. Special Teams/Game Theory
starts at 48:38
A return! Barrett buried a guy. Blocked punt on Maryland's left?-legged guy? They have a righty and a lefty. Quinn Nordin made his first attempt of the year. Hurry sneak on a 4th down that wasn't necessary because a review was about to show the spot was a full yard and a half short. Fake punt! Nice to have a former running quarterback as your upback listed as a linebacker. Flying wedge FTW! No fake punts from the spread punt except the rollout/nobody's here thing. Griese didn't prepare hard for this game. Miss Spielman.
4. Hoops & Around the Big Ten wsg Jamie Mac
starts at 1:11:22
Zavier Simpson is an important guy: we knew this. The green light goes on a lot earlier: good for Livers, fine as long as it's not an off-the-dribble two. Brandon Johns looked pretty good. Is he aggressive enough to be the fourth banana? Yes. Bajema redshirt? Nunez did not look good on D. Pick and roll coverage is now dropping the center.
Instead of double-byes, let's have Thanksgiving in peace. What a Big Ten week it was. Illinois-Rutgers! Illinois plays at an empty MSU next week! Brian wants Dantonio to circle his wagons for one more year but he's got a seven-hour deposition before they've got one running back and a Theo Day/Rocky Lombardi battle to start at quarterback—their AD is part of the Dantonio cabal so he could come back right? Didn't take long for Indiana to make fools of the Wildcat bettors. Nebraska's 400-pound guy deserved a TD. Martinez is playing bad quarterback.
MUSIC:
"Lost Ones" - Lauryn Hill
"On Your Face" - Earth, Wind & Fire
"Smooth Operator" – Sade
"Across 110th Street"