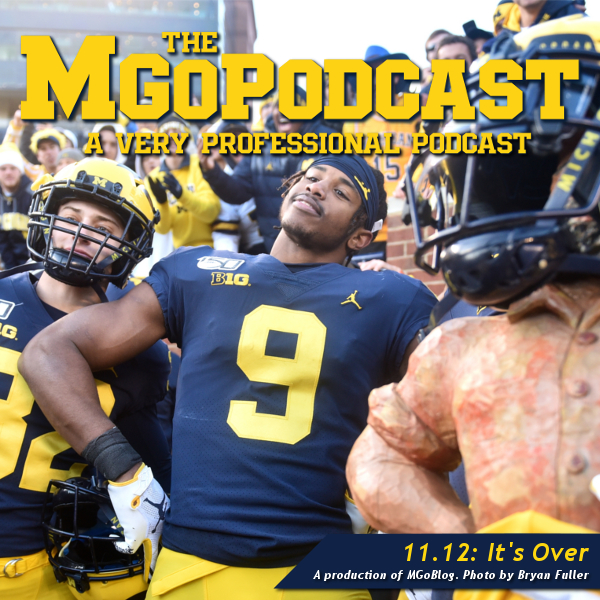 Mark Dantonio come back out of the tunnel you coward so you can hear me bury you.
The Sponsors
We can do this because people support us. You should support them! The show is presented by UGP & The Bo Store, and if it wasn't for Rishi and Ryan we'd be all be very sad ex-Vox employees with "real" jobs.
Our other sponsors are also key to all of this: HomeSure Lending, Peak Wealth Management, Ann Arbor Elder Law, the Residence Inn Ann Arbor Downtown, the University of Michigan Alumni Association, Michigan Law Grad, Human Element, The Phil Klein Insurance Group, FuegoBox, Perrin Brewing, and The Athletic
--------------------------------------------
1. The State of State and the Offense
starts at 1:00
It's over. Without the most unlikely finish in the history of football, Dantonio is 1-4 against Michigan, and that win is with five interceptions from John O'Korn. They lose the best parts of this team, their recruiting is worse than Tulane, and he's about to sit for a deposition. Who's taking over? Secret Santa to decide who's offensive coordinator.
After the shaky start they score on every drive. A relief to see Michigan come into a game like this and attack the secondary. Patterson buys time productively. Feeling good about Gattis now, which is important: can't keep going through coordinators. Counterpunches to the way MSU plays so aggressively against the run. Flare screens put LBs in conflict. Cornelius Johnson: brilliant play design. Guz Malzahn ran that play to beat Alabama. DPJ dumpoffs working because Sparty safeties are not 5-star athletes. Transcontinental: shoulda thrown it to McKeon. MSU's top tacklers were all in the back seven.
2. Defense and the
starts at 30:03
First late hit on DPJ was not a late hit. Aiden Hutchinson gets a PF for one shove in a mess around the goalie. Cody White and Luke Campbell got PFs for the same play: White got it for taunting. Black got one for flexing at nobody. Lavert Hill: one arm flex is okay even if you stop the play on purpose to do it. Jacub Panasiuk is the guy who on two separate instances tried to get Michigan injured: twisted Higdon's leg (Higdon got flagged) and tried to break Ruiz's ACL (Onwenu got flagged) last year.
Defense: says something that MSU's first play (and one of their better ones) was a backwards pass they fumbled. Max run by MSU is 4 yards—Michigan's defense this year isn't a TFL fest but they make it work by being stingy after a yard. Khaleke Hudson shatter machine tag: reactivated.
They got off the bus with their helmets on. Is that not the most little brother thing? Are they going to get out of bed with their helmets on? Sonny the equipment manager designed the pants and had a Bo hat on the statue while the game was on. Brian: I just thought they took Giles Jackson's pants. MOVE! and line shift worked again, turned a 4th and 1 into a punt block. Seniors are unloading on MSU on Twitter. Ambry Thomas is literally undefeated against blocks when this is what we were concerned about coming out of high school and he had the stomach issue. Dax Hill DPI: receiver is fighting to get somewhere but it's not the ball: Dax has won over the top of the route. Especially frustrating coming off the PI they didn't call on Nico. #FreeJulianBarnett
3. Hot Takes, Special Teams, Game Theory, and Hoops
starts at 58:15
I need you to be as angry as a Panasiuk down 38 points. Fixing the environment in Crisler by filling the lower bowl. Harbaugh's WWE-style callout. Khaleke Hudson passes Marquise Walker as the greatest punt-blocker in Michigan history. Used Giles Jackson well in this game. Game Theory: 4th and 3 was a good idea, got a DPI, not M's fault it wasn't flagged.
Creighton: M managed to slow the game down. Nunez defensive liability, can see his shooting, is a placeholder for Franz. Eli Brooks is a trend. DDJ is coming on. Want to be up-tempo but Pink Teske problem nerfs that. Played Bajema.
4. Around the Big Ten wsg Jamie Mac
starts at 1:35:06
Flexing with one arm to avoid a personal foul. Northwestern won by 39, line moved to under that but if you got it on 40 you were brutally wrong. Iowa fluked away the Gophers. Jonathan Taylor has reached the records part of the season. The 21 points to Rutgers is the most Ohio State has given up all year. Johnny Langan even got a 1st quarter TD.
MUSIC:
"That's Where You're Wrong"—Arctic Monkeys
"Humble"—Kendrick Lamar
"God's Gonna Cut You Down"–Johnny Cash
"Across 110th Street"