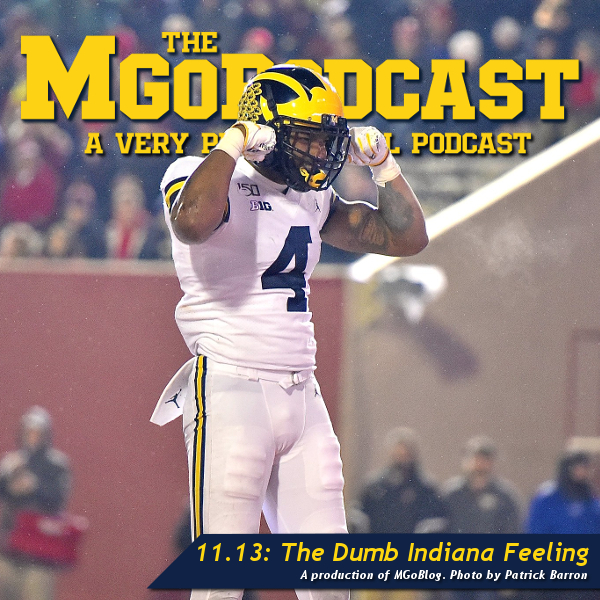 That's what you need Nico Collins to do is to sit on somebody in the air.
The Sponsors
We can do this because people support us. You should support them! The show is presented by UGP & The Bo Store, and if it wasn't for Rishi and Ryan we'd be all be very sad ex-Vox employees with "real" jobs.
Our other sponsors are also key to all of this: HomeSure Lending, Peak Wealth Management, Ann Arbor Elder Law, the Residence Inn Ann Arbor Downtown, the University of Michigan Alumni Association, Michigan Law Grad, Human Element, The Phil Klein Insurance Group, Perrin Brewing, and The Athletic
--------------------------------------------
1. The Offense
starts at 1:00
Start with the stupid—when Giles Jackson wasn't initially ruled down on his kickoff return we felt in for it. Announcers, Tom Allen's fire-up speech don't help. The Whop for Hawkins trade. First time one of the fearsome foursome receiver recruiting class got over 100 yards(!!!). Nico Collins DPI magnetism. Transition period didn't need to not do that. Things that don't happen anymore: confusion before a snap, timeouts because they're disorganized, running things that don't have a counter. Good downfield adjustments by the young slots. Who can stand up to these receivers? Wheel route to Giles Jackson: looks exactly like Michigan's RPO game. Interior OL: best Brian's ever graded.
2. The Defense
starts at 32:19
Indiana's scripted drive worked with those TE flare screens. Phantom DPI on Lavert Hill worked, Ambry and Lavert feel very differently in run defense: note how Indiana played a screen from trap coverage on that TFL versus how Hill stopped and the guy got around him. Then: shutdown time. Kemp and Hutchinson caused the pop-up that Dax Hill fielded. He's alright that guy, whose first start is broken down. He did fail to switch on one rub route. Dwumfour's limited role. The Uche idea: I believe in not trying to run a jet-around at the guy who immediately steps upfield. Lane integrity versus scrambles: a rare breakdown, next time Ramsey got sacked. McGrone missed a tackle on the TD. PI business: first play is horrible, second one is PI, holding behind the LOS: that's never been called before, but if the ball's in the air it's not defensive holding because—duh—the guy is basically a running back.
3. Hot Takes, Special Teams, Game Theory, and Hoops
starts at 51:45
Do you know how to football? Yep, you play until the whistle! Last IU guy prevented what was going to be a 50-yard return. Wildcat snap on 3rd and 3 (unless you're running it twice?). Screwed up end of the half against IU again! Two-point conversion: legitimate tactical decision. Hart contributed to the Dumb Indiana Feeling with his first two very weak punts. Indiana's live stats were very drunk.
Speaking of very drunk: 86 possessions against Houston Baptist! Everyone's pulling out the record books at halftime. Bajema! X went left! Nunez: ~~~~~~euh, went 2/8 but most of those shots looked good. His defense…euh. Castleton looked nice, got up and down the floor well, more comfortable on defense. British student announcer was offended by HouBap shots; Brian was offended by Dragon Ball Z. Everyone but Wilson scored.
4. Around the Big Ten wsg Jamie Mac
starts at 1:14:06
Iowa-Illinois: too depressed to yell BIG TEN! Illinois forced a lot of FGs, Peters 4 YPA, Illinois lives off turnovers and died by the TO. One was a flea flicker INT. They have the Maryland offense of run defenses. Wisconsin-Purdue: Jonathan Taylor rampant. Backup kicker hit a 62-yard field goal (woulda been good from 62.3), breaking a record from the 19th century. Rutgers 140 yards of offense, MSU gets 5.1 YPP versus Rutgers. Rode Elijah Collins, and he got stuffed twice on 4th and 1. Devontae Dobbs rotated with 3 other guys at LT: roster mismanagement on the tackles is on the list of things wrong with MSU. Maryland played four quarterbacks against Nebraska—none had a pick (don't forget the six sacks though). Three yards short of a passing Rutger. Locksley-Gattis debate: resolved. Northwestern Rutger'd themselves by getting a lead (2-0) while having negative yards. Penn State evisceration (5 YPP) covered up by OSU fumbles. Penn State's rushing defense absolutely destroyed.