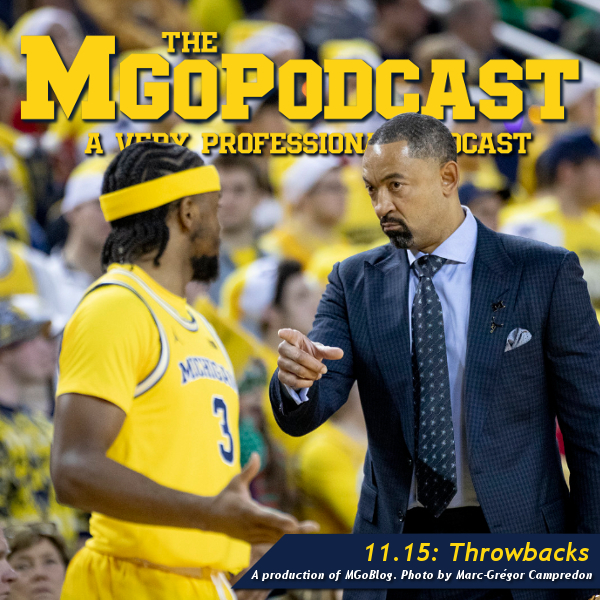 Brian is out so Craig Ross is sitting in for him.
No matter what your strategy is you don't want a guy dropping 44 on ya.
The Sponsors
We can do this because people support us. You should support them! The show is presented by UGP & The Bo Store, and if it wasn't for Rishi and Ryan we'd be all be very sad ex-Vox employees with "real" jobs.
Our other sponsors are also key to all of this: HomeSure Lending, Peak Wealth Management, Ann Arbor Elder Law, the Residence Inn Ann Arbor Downtown, the University of Michigan Alumni Association, Michigan Law Grad, Human Element, The Phil Klein Insurance Group, Perrin Brewing, and The Athletic
--------------------------------------------
1. Football
starts at 1:00
On Michigan's side only Nico seems like any shot at a 1st rounder, guys who declared and seniors are expected to play. On Bama's side, Jerry Jeudy said he'll play, and they have three projected first round receivers and eight guys projected in the 1st round who have a choice to make. Tarik Black leaving could mean Nico and DPJ are leaning toward staying? Receivers of the future: we'll see but Michigan can use their slots more.
Don Brown interviewed for BC job, went to OSU's DC (not Matty) so what happens with Mattison?
2. Louisville, Iowa, and Illinois
starts at 26:52
UL was a schedule loss: forced Teske to make threes or long two's with high hedges. Counterintuitive to blitz X because he's not a great shooter. Someone else with athletes will try this. Iowa: highest-scoring Big Ten regulation game since 2002. Michigan is balanced; Iowa is not because Michigan and Iowa both had the same gameplan. 44 points by Garza: an arena record? You coach to the game. Illinois: Michigan doesn't hit their threes, Kofi Cockburn is a problem. Lewis Garrison literally knocked out of this one; other two refs clearly capable of doing a better job with him off the court.
3. Hot Takes and Oregon
starts at 59:42
David's hot take voice is extremely British. Craig thought the Oregon game was one of the loudest ever. Craig advocates for a huge lineup with Johns & Franz with Livers at the 2. Impressed by Pritchard, who's the first guy to run X off the line. Two insanely long reviews.
4. Expectations
starts at 1:36:32
Johns could be a season-changer. Brooks's floater game isn't so efficient that you can discount DDJ taking more of his minutes down the line. Castleton is falling out of rotation as they find something they want in Johns. Trip around the Big Ten: Minnesota and Penn State are going to be tough to beat on the road, Ohio State looks like a real #1 thanks to Wesson.
MUSIC:
"Tell Them You Can't Leave"—The Amazing
"Woods"—Time Fading Lines
"Getting Better"–Twin Peaks
"Across 110th Street"
THE USUAL LINKS: