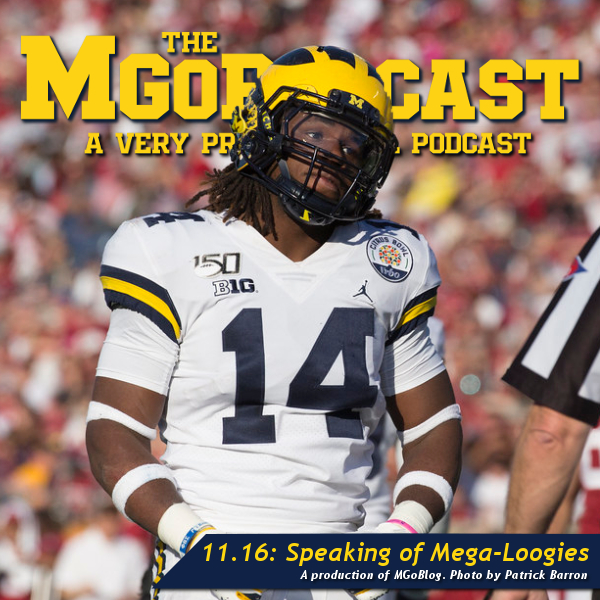 It's really uncomfortable here under the bus, Ace.
The Sponsors
We can do this because people support us. You should support them! The show is presented by UGP & The Bo Store, and if it wasn't for Rishi and Ryan we'd be writing for The Athletic if we're lucky.
Our associate sponsors are also key to all of this: HomeSure Lending, Peak Wealth Management, Ann Arbor Elder Law, the Residence Inn Ann Arbor Downtown, the University of Michigan Alumni Association, Michigan Law Grad, Human Element, The Phil Klein Insurance Group, FuegoBox and The Athletic
1. Hoops vs MSU
starts at 1:00
Once Teske went out they went zone with Nunez. Breslin fouls on him nuked what was one of his best games. Still no answer for Cassius Winston—wish Michigan had just kept using the drop coverage and forced him to keep hitting his runner twos instead of hard hedges. When a Beilein roster shoots 5/23 from three on the road, it's a recipe. Johns so hesitant from deep after his early miss. Expected the Breslin, got the Breslin. Shout-out to Big Country who kept Michigan in this game with some cool finishes. Michigan doesn't know how to do enough gamesmanship (e.g. throw the ball at the ref's feet after a basket to prevent transitions off makes).
2. Basketball Outlook
starts at 24:02
First tactical issue all year was MSU's breaks. Will have the best non-conf resume of tournament teams. Brooks is up, Johns has shown signs, and Castleton needs to Garza up. Rutgers is one spot behind Indiana! Ohio State looked ragged against West Virginia, and losing to Wisconsin at home is hooo. Don't be disappointed if this is a six seed. Can't make fun of Richard Pitino for now.
Recruiting: Williams and Dickinson! Williams is JaeSean Tate/Kenny Goins late career/Iggy Brazdeikis-ish? Josh Christopher fills the NBA-level two-guard need that Michigan has way more than Greg Brown the 5-star who said he's taking a Michigan visit on his way to Kentucky or Memphis. Everyone thinks Christopher's going to end up at UCLA for…reasons. But Corey Evans moved his FutureCast to Michigan. Todd's a bigger recruiting get for showing what Juwan can get than what we'll get since he'll mostly develop after his one-and-done year. Get Chet! Would you take Beilein back right now?
3. The Citrus Bowl
starts at 11:11:28
Both an excellent and bad summary of Shea Patterson's career, since the thing he was good at he was terrible at in this game: Deep ball accuracy! Giles Jackson looks fast when he's playing Alabama. Imagining the game if they don't throw that horseshit flag on Aidan Hutchinson, or if Bell doesn't step out of bounds, or if Alabama wasn't just so perfect on their throws. Hard to have takeaways about Chris Hinton because they didn't try him until the end.
4. Football Outlook
starts at 1:35:14
Skill position looks very good, what do you have at quarterback? Blake Corum is the perfect addition to a running back room that adds Chris Evans too. OL seems fine—the guys leaving are probably getting passed by young'uns except for Ruiz. Most important guys on next year's team are Mazi Smith and Chris Hinton because DTs and QBs are the game these days. Outlook for the conference.
MUSIC:
"January Hymn"—The Decemberists
"Pony"—Ginuwine
"I've Been Searching"–O.V. Wright
"Across 110th Street"
THE USUAL LINKS: