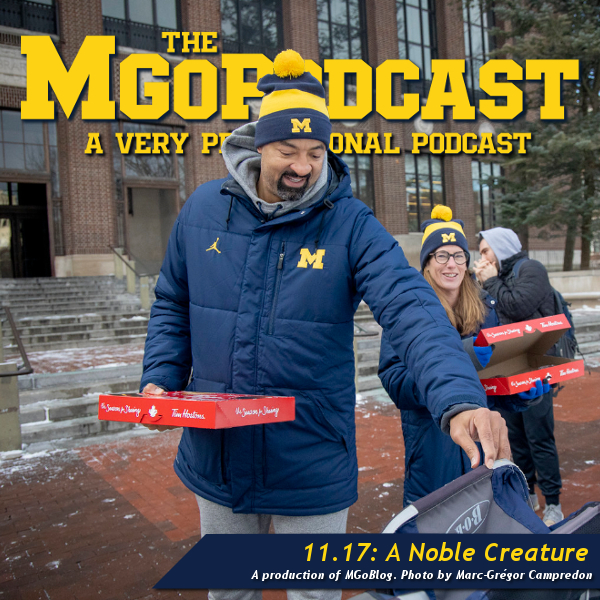 If you come back for your senior year you might get to see Nana again.
The Sponsors
We can do this because people support us. You should support them! The show is presented by UGP & The Bo Store, and if it wasn't for Rishi and Ryan we'd be writing for The Athletic if we're lucky.
Our associate sponsors are also key to all of this: HomeSure Lending, Peak Wealth Management, Ann Arbor Elder Law, the Residence Inn Ann Arbor Downtown, the University of Michigan Alumni Association, Michigan Law Grad, Human Element, The Phil Klein Insurance Group, FuegoBox and The Athletic
1. Hoops vs Minnesota
starts at 1:00
Michigan's worst defensive game in a very long time. Teske got run by Cockburn, Williams, Garza, and Oturu—just not Tillman. Marcus Carr is finishing through Teske's chest in this game. Why aren't they doubling? Especially in this game? Other things: Wagner finding a groove, still can't muscle guys. He's not a 4: guy Livers should have been guarding can muscle a freshman Wagner. Eli has to hit his open threes or they need to let DDJ start. Juwan's stubbornly sticking to his rotation despite ample evidence at this point that Nunez can't be out there.
2. Hot Takes and Purdue
starts at 27:02
Let C.J. cook! Trevion Williams puts up a career game, as one does. Teske made it difficult-ish on Williams, who had the game of his life. But if you're going to double off anyone it's the team with Aaron Wheeler and Nojel Eastern. Losing Haarms opens the door for Michigan to run their three-guard lineup, and Simpson goes 8/8 of two after that. Both teams were turning it over at first then it became a pretty good game. It looks like a Beilein team now.
3. Gimmicky Top Five: Most Terrifying Things in the Big Ten This Year
starts at 45:34
Rutgers. Let the peacock fly! That joke this week man. I would like to see Michigan not give up career highs to every center they face. Is it fun or horrifying to cover a Big Ten this good? Ibi Watson is shooting 49% on threes.
4. Ace's Hockey Podcast
starts at 1:12:50
Sweep of Notre Dame that felt like all the rest of their games this year except the result. Straus Mann is a good goalie (ND has one too)! Big Ten has one team that's talented, Wisconsin, and they're terrible on defense. Recruiting is better than basketball.
MUSIC:
"Tired of Being Along"—Al Green
"Make a Change"—Durand Jones & The Indications
"War is Coming (If You Want It)"–Car Seat Headrest
"Across 110th Street"
THE USUAL LINKS: