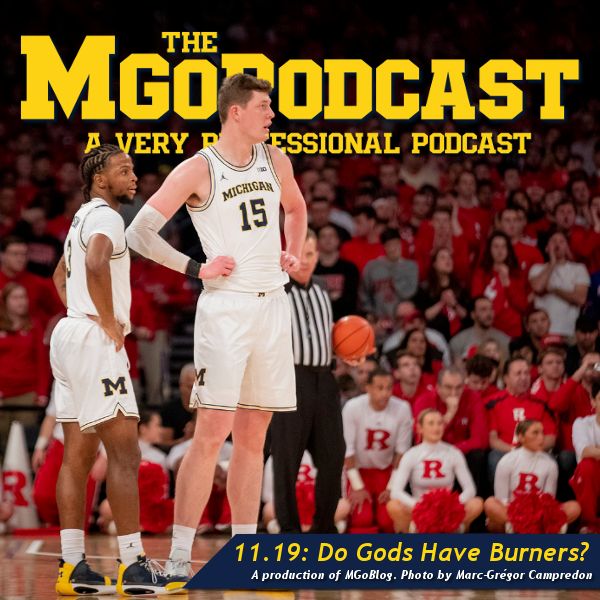 They're probably unlisted because of people like you.
The Sponsors
We can do this because people support us. You should support them! The show is presented by UGP & The Bo Store, and if it wasn't for Rishi and Ryan we'd be writing for The Athletic if we're lucky.
Our associate sponsors are also key to all of this: HomeSure Lending, Peak Wealth Management, Ann Arbor Elder Law, the Residence Inn Ann Arbor Downtown, the University of Michigan Alumni Association, Michigan Law Grad, Human Element, The Phil Klein Insurance Group, FuegoBox and The Athletic
1. Rutgers at MSG
starts at 1:00
When they scheduled this game they couldn't guess Steve Pikiell would bring about the Rutgers renaissance. Michigan turned it over 16 times and gave up 36 offensive rebounds and won because finally someone didn't shoot 50% from three on them. They did it by being more Rutgers than any other previous Rutgers: putting up contested bad shots galore. The Johns game! Having a rim-runner who can hit free throws is important. He also nailed the shot after the long pass sequence.
2. Nebraska at Lincoln
starts at 26:52
Wagner was taller than everybody but their center, who's not good. Their backup center was hitting stupid jacks at 50% when he wasn't stepping out of bounds. Cam Mack also went 5/7 from beyond the arc in this game. But since they're Nebraska, they have no size, no defense, and no way to keep Michigan off the boards. Eli Brooks saves the offense! Frustrated by Teske's lack of aggression so they go with Johns post-ups. Bajema: we think they can get a redshirt if he doesn't play again, and documents an injury.
3. Hot Takes and Big Ten Melee
starts at 39:59
Michigan's won 10 in a row at MSG—should they play their home games there? Brian tells us which sports his kids will play. Brad Davison, the crewcut psycho, sits out against MSU and Wisconsin still beats them. UW is also without Kobe King the rest of the year. OSU is without DJ Carton. Illinois is going to win the league—they've played good teams and they've changed up how they play defense, and everyone else murdered each other. OSU preview: Wesson lost weight, lost some of his post presence, gained an incredible three. They shoot a lot—please don't be unlucky again.
4. Ace's Ohio State Hockey Podcast
starts at 1:06:46
They won on Friday and didn't move up in Pairwise because everyone else won and it was a home game. Saturday was a classic Michigan loss: won Corsi, gave up five odd-man rushes. Coward refereeing for giving their captain just 2 minutes for knocking out Lockwood. Michigan down a whole line for the 3rd period. Don't even attempt to pass on 2-on-1s.
MUSIC:
"New York"—Cat Power
"Inside Out"—Spoon
"God's Gonna Make You Laugh"—Ephemerals
"Across 110th Street"
THE USUAL LINKS: