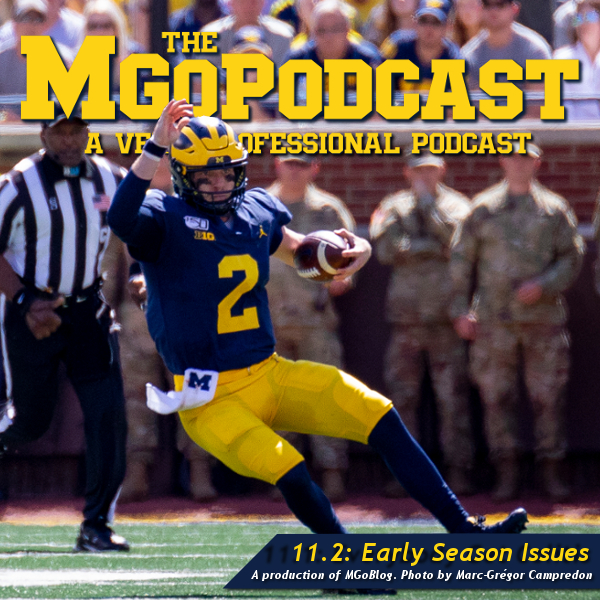 It was never a t-shirt. It might have been a spittle-flecked blog post.
The Sponsors
We can do this because people support us. You should support them! The show is presented by UGP & The Bo Store, and if it wasn't for Rishi and Ryan we'd be all be very sad ex-Vox employees with "real" jobs.
Our other sponsors are also key to all of this: HomeSure Lending, Peak Wealth Management, Ann Arbor Elder Law, the Residence Inn Ann Arbor Downtown, the University of Michigan Alumni Association, Michigan Law Grad, Human Element, The Phil Klein Insurance Group, FuegoBox, and Perrin Brewing
--------------------------------------------
[After THE JUMP: All things borked]
1. Offense
starts at 1:00
Shea and his reads: Harbaugh's job is to lie but we think he's definitely injured. Sometimes there was an overhang read but mostly: yeah. His passing too was probably affected by that.
Ready to buy Charbonnet as a star. We got a lot of data this week. Missed Runyan a lot—not great from Hayes, huge missed pickup by Turner. Giles Jackson has freshman slot disease: need to teach them to cut inside the blocker. VanSumeren screwed this up too. Quarterback has to play better, period. Targeting call: can't call that—have to account for a guy changing position.
2. Defense
starts at 26:38
Irrelevant to the rest of the season. Uche had a good game, Hutchinson had a good game, can't blame him for Army doubling him by having another guard slam into the guard blocking him to get a short gain. Michigan chose to go with a 3-3-5, take the dives to prevent anything big. You're going to
3. Special Teams/Game Theory
starts at 55:10
Ronnie Bell: making us miss DPJ/Peppers. Third punt was yikes, and fumbled a punt. Liked how Michigan played the 4th quarter—problem wasn't going for it; it was the playcall. Michigan got RPS'd by Army who called something to beat the arc read. How did ULSM not go for two? Michael Sessa on FG blocks. Commercials: so many in this game that Michigan ran out of their in-game frippery before the 4th quarter.
4. Around the Big Ten wsg Jamie Mac
starts at 1:20:25
Wisconsin Rutger'd CMU (hey we could have played CMU) and Quintez Cephus is back. Both teams have a bye now. Indiana had their fun. Buckeyes had their fun; Justin Fields completes 80% of his passes. Iowa found a receiver against Rutgers—not the one we gave them. Michigan State gets 51 points wearing the Mountain Dew uniforms against the Broncos (hey we could have played WMU). Penn State got outgained by Buffalo; 23 for 24 is a bad run game. Maryland what? Illinois has former Michigan guys and beat UConn, has EMU (hey we could have had a bye then played EMU) next week. Colorado-Nebraska was a Lions job. Tried to have their punter kick the OT field goal. New center is taking some time to get used to it. Two signs Nebraska is back to the Osborne years: Colorado rushes the field, and they're playing a criminal right out of jail.
MUSIC:
"Army"—Ben Folds Five
"Time Trap"—Built to Spill
"Don't Leave Me THis Way"—Lee Fields
"Across 110th Street"