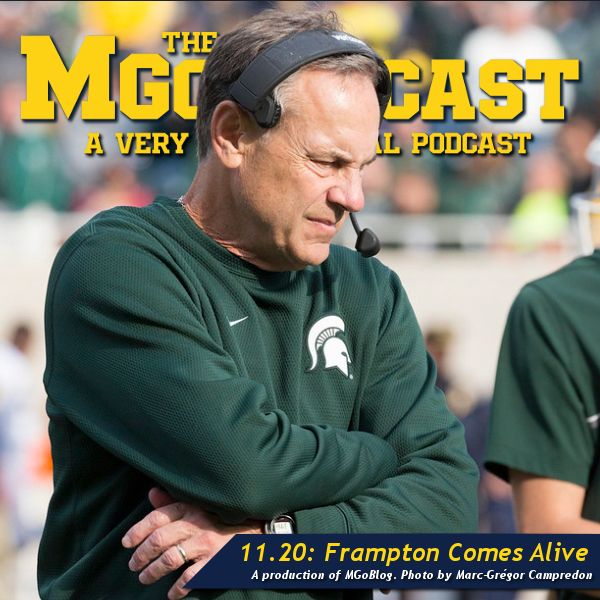 Ever had a gnome thrown at you? It's not a pleasant situation.
The Sponsors
We can do this because people support us. You should support them! The show is presented by UGP & The Bo Store, and if it wasn't for Rishi and Ryan we'd be writing for The Athletic if we're lucky.
Our associate sponsors are also key to all of this: HomeSure Lending, Peak Wealth Management, Ann Arbor Elder Law, the Residence Inn Ann Arbor Downtown, the University of Michigan Alumni Association, Michigan Law Grad, Human Element, The Phil Klein Insurance Group, FuegoBox and The Athletic
1. Hoops vs Michigan State
starts at 1:00
Franz Wagner didn't score but his gumby arms were huge—got a good Wagner face from the block that was inexplicably called a foul. Turned on some rebounding potential. Comp? Michigan finally wins from the 3 point line. Nice to have Livers back, not just because Johns is a very good backup 4. Michigan renders Bingham useless—Johns and Davis could body him, and Livers means he can't be on the floor for spacing otherwise. Izzo's <kiss fingers> whiny bitch fest of a press conference. Why does anyone play for that guy?
2. Hoops vs Ohio State
starts at 25:46
The most insane call we've ever seen—doesn't help the refs that their explanation for the call is patently untrue. Complete officiating debacle—Kaleb Wesson should have fouled out—you literally can't take a charge if the guy is in the air before you get there! Bad both ways yes but asymmetric, and good lord. When's the last time Michigan ever got a gift game, because we have to eat 3 or 4 losses a year. Michigan is 96th %ile in short clock plays. Questionable coaching: drop coverage on Kaleb Wesson. Peak this season is cursed.
3. Hot Takes and Mark Dantonio
starts at 45:32
The XFL: a lot of good ideas for entertaining football. Seems like this league is set up for more success than previous ones. Kickoffs are cool, punting is bad, "Team 9" league-wide practice squad. Michigan's tourney resume vs State's: um, actually it's better.
Dantonio: run by Curtis Blackwell! Was clear if he was going to leave he would have gone to Beekman and gotten his money. Tom Mars is involved now. If Blackwell comes out clean here Michigan should hire him! MSU job: inheriting a rogue program after its best coach with two years of cratered recruiting. Timing is bad because you can't get in on the portal now, terrible fanbase, toughest division. Preemptive no's from Narduzzi, ISU's head coach.
4. Ace's Sconnie Hockey Podcast
starts at 1:18:02
Wisconsin's goaltending is TERRIBLE. Getting production from Granowicz. Potential #1 line with Beecher (muscle)/Hayhurst (creator)? Control their own destiny to win the league (have to win 6 in a row) but still outside looking in on tournament. They've improving: get the puck out of the zone cleaner, playing solid. Wonder what position they'd be in if they didn't take a bad luck goal against PSU and get rogered by the refs vs OSU. Only PSU in this league is a lock for the tournament but all the way down to MSU is bubble.
MUSIC:
"E=MC2"—J Dilla (feat Common)
"Rip Off"—T. Rex
"Jump Around"—House of Pain
"Across 110th Street"
THE USUAL LINKS: