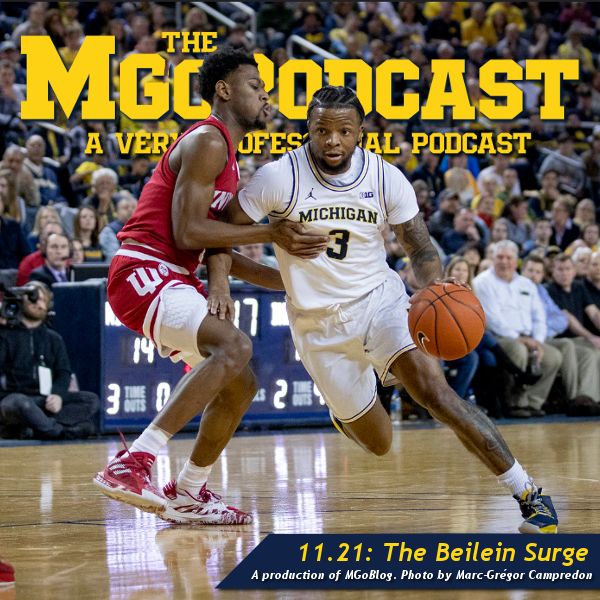 Juwan Howard, play me more minutes, or I will destroy you!
The Sponsors
We can do this because people support us. You should support them! The show is presented by UGP & The Bo Store, and if it wasn't for Rishi and Ryan we'd be writing for The Athletic if we're lucky.
Our associate sponsors are also key to all of this: HomeSure Lending, Peak Wealth Management, Ann Arbor Elder Law, the Residence Inn Ann Arbor Downtown, the University of Michigan Alumni Association, Michigan Law Grad, Human Element, The Phil Klein Insurance Group, FuegoBox and The Athletic
1. Hoops vs Indiana
starts at 1:00
Archie Miller: great basketball coach! All those dunks and layups all come from sticking to this insane strategy of high hedging vs X, even after Michigan had 41 points because of it at halftime. Everyone except the centers had a 128+ and after Franz they're all in 140. IU's three-big lineup leads to Michigan going zone. That Davis guy went 9/9, with more than half of them garbage buckets. Brandon Johns is like a cornerback with closing speed: closing feet!
2. Hoops vs Northwestern
starts at 26:21
When you can get Dikembe Mutumbo and World Wide Wes to Welsch-Ryan Arena, you have basketball pull. Leads to a discussion of bag, and hopefully NIL comes soon so it's moot. Chicago's Big Ten Team looked like they didn't care except that one backup center canning uncanny jumpers. Pete Nance looks so sad.
Some Big Ten: Greatest Michigan State Floor Slap of all time: turned around a 6.4% win chance. What is there to love about PSU's offense? They don't turn the ball over? Iowa had a once in a generation collection and half of it got hurt; good news is they're all back next year.
3. Hot Takes and Hockey
starts at 55:18
Best Michigan State coach in five years, tournament seeding. Accessible five-holes. Children of Yost showed out for the MSU series at Munn! A bunch of them got a photo with Izzo.
4. Baseball and the NonRevs
starts at 1:17:43
Greatest week of non-revenue (and baseball) in recent Michigan history. Beat #1 Vandy and #3 ASU (we cherrypicked from polls) to start 3-0. Not going to have the pitching this year but very athletic outfield. WBB was climbing but got hit with a lot of injuries, including one to their star. Team goes where Naz, turnover battle goes. Men's tennis went on the road and was trucking people. Gymnastics is good: we need Jane for the gymnastics knowledge. Softball is 9-0, first-ever hit for a sophomore is a grand slam walk-off.  
MUSIC:
"Burn On—Major League Movie Theame"—Randy Newman
"Repetition"—TV On the Radio
"Wild Pack of Family Dogs"—House of Pain
"Across 110th Street"
THE USUAL LINKS: