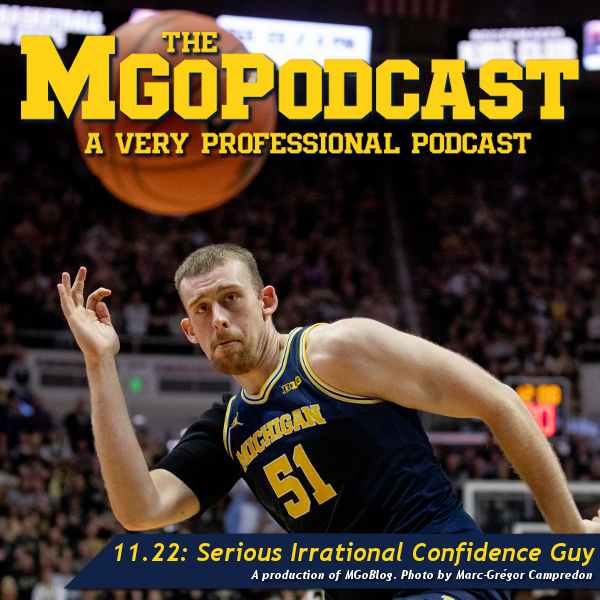 Don't change your hair late season, unless you become Zavier Simpson with a shot
The Sponsors
We can do this because people support us. You should support them! The show is presented by UGP & The Bo Store, and if it wasn't for Rishi and Ryan we'd be writing for The Athletic if we're lucky.
Our associate sponsors are also key to all of this: HomeSure Lending, Peak Wealth Management, Ann Arbor Elder Law, the Residence Inn Ann Arbor Downtown, the University of Michigan Alumni Association, Michigan Law Grad, Human Element, The Phil Klein Insurance Group, FuegoBox and The Athletic
1. Hoops vs Purdue
starts at 1:00
Matt Painter goes full Tom Izzo for 2 and a half minutes, including a foul with 6 seconds left. Before foul time they were 15/40 on two's, 4/16 on threes includes the late one. Playing Williams straight-up with Davis worked: he's 5/16 before nonsense time. Thread of dig-downs made him pick up his dribble. Return games (nisi ref job at Iowa) have been much better strategically. Hot hand effect: Purdue goes under X and gets away with it, but the rest of the guys had beautiful assists too. DDJ, Franz coming on, Franz is two days younger and far ahead of where Caris was at this point of his career.
2. Hoops vs Rutgers
starts at 27:30
The Castletoning but first Nunez runs to the corner on a break. Pikiell has to drop the P&R coverage he wanted because X hit his first two. Michigan can win games vs tournament teams on the road without shooting well from three. Return of Teske's defense. Jacob Young why are you talking? Remarkable stat line. Jalen Rose hanging on Eli Brooks.
3. Hot Takes and a Gimmicky Top Five
starts at 45:55
Eli: rock the Rip Hamilton mask from here out.
4. Hockey vs. ND
starts at 1:18:24
I'm sorry I have my kid's birthday to get to and this was a miserable weekend that wasn't reflective of the effort.
MUSIC:
"Come Together"—Syl Johnson
"Sabotage"—Beastie Boys
"Knock Knock Knock"—Spoon
"Across 110th Street"
THE USUAL LINKS: