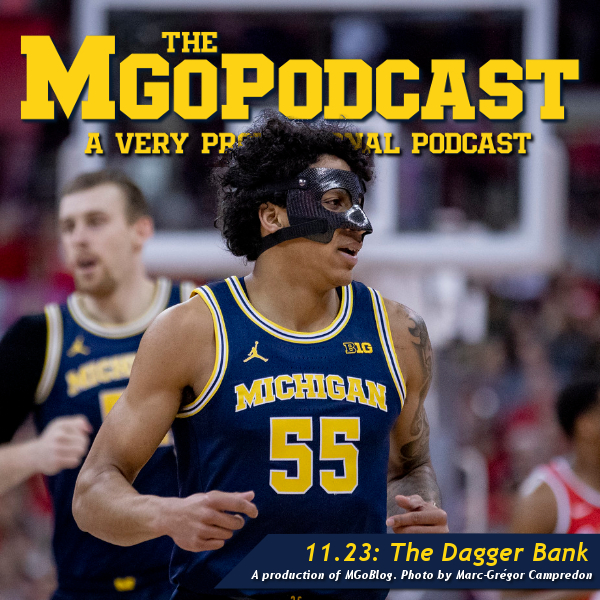 It's been a rule since 1974: that was a big year for ululating.
The Sponsors
We can do this because people support us. You should support them! The show is presented by UGP & The Bo Store, and if it wasn't for Rishi and Ryan we'd be writing for The Athletic if we're lucky.
Our associate sponsors are also key to all of this: HomeSure Lending, Peak Wealth Management, Ann Arbor Elder Law, the Residence Inn Ann Arbor Downtown, the University of Michigan Alumni Association, Michigan Law Grad, Human Element, The Phil Klein Insurance Group, FuegoBox and The Athletic
1. Hoops vs Ohio State
starts at 1:00
Ohio State gets two bank threes: can you remember Michigan's last (competitive) bank shot? Understand now how Purdue felt when they had to take Isaac Haas and Caleb Swanigan off the court. Michigan's trying all kinds of switches. Livers had a terrible week. Castleton hesitated on his corner three attempt. Very matchup-dependent team. Livers discussion: not great in the lane, stay in your role.
[The rest of the writeup and the player after The Jump]
2. Hoops vs Wisconsin
starts at 27:30
Vastly worst defensive performance of the year. Wisconsin can't miss their threes but this time they're open. UW let X go crazy in the paint—it didn't really work for them. DDJ hits his breakaways and Michigan's got the lead at the end. Communication went badly but straight-up they got beat on drives. Wagner coming around. Why Nunez? Michigan this year is just incredibly unlucky in threes.
3. Hot Takes and a Gimmicky Top Five
starts at 45:55
Ways Brian is like Adam Sandler. You can't sue me for this: Saul Goodman is not real, first of all. There's a 90s open shirt with a t-shirt thing going on.
4. Hockey vs. the World
starts at 1:18:24
Old fashioned three-point weekend at Minnesota on the head of Strauss Mann.
MUSIC:
"Opposite Day"—Andrew Bird
"On Repeat"—LCD Soundsystem
"Lunch Lady Land"—Adam Sandler
"Across 110th Street"
THE USUAL LINKS: