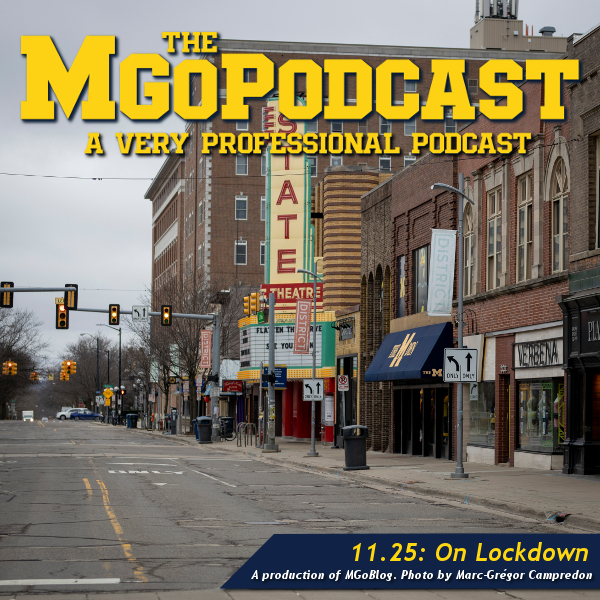 "I'm trying very hard not to impulsively adopt a cat."
The Sponsors
We can do this because people support us. You should support them! The show is presented by UGP & The Bo Store, and if it wasn't for Rishi and Ryan we'd be furloughed SBNation writers right now.
AND THEY ARE DOING THIS FOR CHARITY: Proceeds from UGP and the Bo Store right now are going to support our front line workers at Michigan Medicine.
Our associate sponsors are also key to all of this: HomeSure Lending, Peak Wealth Management, Ann Arbor Elder Law, the Residence Inn Ann Arbor Downtown, the University of Michigan Alumni Association, Michigan Law Grad, Human Element, The Phil Klein Insurance Group, and FuegoBox
1. Construction/Deconstruction of Michigan's Basketball Roster
starts at 1:00
Program was blindsided by DDJ and Castleton leaving, Isaiah Todd getting hundreds of thousands of dollars from a suddenly cash-throwing G-league, and Josh Christopher going full Dave Brandon. Would we be this disappointed if both five-stars had bailed earlier? Good class for building for the future but it grates that we have the bad luck for the G League to start paying people half a million out of nowhere. It's going to be kind of a NTDP for the NBA: will force Michigan to go more into Top-30 guys instead of Top-10 guys. Talk Mike Smith: what's he good at? Vulnerabilities? Michigan might look for a late-riser recruit or if immediate transfers are allowed that'll be a big market.
[The rest of the writeup and the player after The Jump]
2.
Football

Massachusetts Recruiting

starts at 25:29

Boston College blogger confused how Michigan expects to win championships with Boston College's guys. Exception: tight end. If you're going to get a 3-star out of Massachusetts it should be a Kwity Paye or Mo Hurst (who was nearly a 4-star and had an Ohio State offer). Can't compete with the big teams unless you get those talented defensive tackles—Michigan used to get them and now they're trying to Moneyball them.
3. Hot Takes and Gimmicky Top Five
starts at 50:19
Hot takes will make you angry but we've forgotten how to do this (also bring up the Fuegobox Choco Challenge: if 25 people play and tag Seth on twitter Seth will eat a death chocolate bar as well. Things go off the rails pretty quickly, and we are HUGE nerds. CFBRisk has two levels: participation and Texas A&M memes. If you invite Seth to your D&D group he will probably accept.
4. Rapid Fire Questions from the Internet
starts at 1:22:21
The A-Team of Michigan. Non-con home-and-home in football & hoops you'd like to see? Best & worst things about quarantine. Most important pantry stable. Favorite "social distancing" play. Strangest draft anomaly? Best way to ensure people stay 6 feet away from you? Favorite board game. Best game to watch during stay-at-home. Can you just make fun of MSU? Favorite Ann Arbor streets? Impact of shortened season? Writers who had the greatest influence on us (I skipped to save you all from 30 minutes of me naming people, and from having to defend Mitch Albom being on the list. Also Chris B. Brown and James Light as X's and O's writers, the guy who used to draw MS Paints on plays in the diaries was the inspiration for Neck Sharpies, Tres Crow, John Kryk and Steve Sap and Greg Dooley for drawing me into Michigan history, all the guys Brian & Ace mentioned especially DFW, Joe Falls, Adam Jacobi, the Banner Society folks, Natalie Wiener…I can't.
MUSIC:
"Ain't Gonna Give It Up"—Charles Bradley
"I Dream of Spring"—K.D. Lang
"Heroin"—The Velvet Underground
"Across 110th Street"