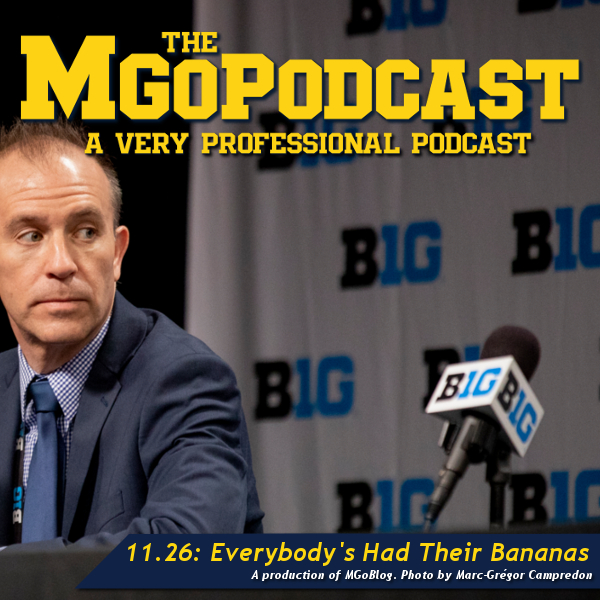 "I pooped."
We can do this because people support us. You should support them! The show is presented by UGP & The Bo Store, and if it wasn't for Rishi and Ryan we'd be furloughed SBNation writers right now. Proceeds from the "Those Who Stay Home" collection are going to support our front line workers at Michigan Medicine.
Our associate sponsors are also key to all of this: HomeSure Lending, Ann Arbor Elder Law, the Residence Inn Ann Arbor Downtown, the University of Michigan Alumni Association, Michigan Law Grad, Human Element, The Phil Klein Insurance Group, and FuegoBox
[Hit THE JUMP for the writeup and the player]
1. Basketball Picks up Two or One Grad Transfers
starts at 1:00
Something is weird with the recruitment of Nojel Eastern. Definitely the weirdest player in the Big Ten but not a bad one. Also got the kid from Wake Forest, who's 100% coming provided he gets a waiver. Chaundee Brown can shoot if you set him up but he's not a creator of his own shot. How do they all fit together? How much of a load can we put on Wagner?
[The rest of the writeup and the player after The Jump]
2. Do They Play Football?
starts at 21:439
If they're determined to have students on campus and play, what does that look like? Things at the start of fall don't actually look much different from where things were the moment they canceled the Big Ten Tournament. But they're going to do it anyway, at least until public pressure from something going horribly wrong ends it.
3. Hot Takes and Football Recruiting
starts at 44:14
We don't even get to all the commits, just the 4-star defensive players because it looks like there are about to be a whole bunch of them. Are they all going to play anchor? Of course!
4. Gimmicky Top Five Weirdest Game Environments
starts at 1:08:46
A lot of sad games and 2014 games and then Seth brings out the Comerica Park flying ants game.
MUSIC:
"Unbroken, Unshaven"—The Budos Band
"Drunk Drivers/Killer Whales (Single Version)"—Car Seat Headrest
"Daydream in Blue"—I Monster
"Across 110th Street"
THE USUAL LINKS: