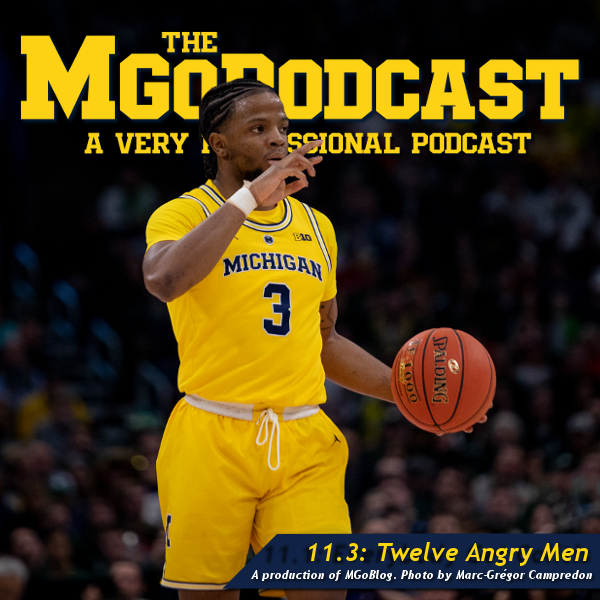 It's the bye week, and that means hoops preview edition. Except we have to laugh about MSU first, duh.
The Sponsors
We can do this because people support us. You should support them! The show is presented by UGP & The Bo Store, and if it wasn't for Rishi and Ryan we'd be all be very sad ex-Vox employees with "real" jobs.
Our other sponsors are also key to all of this: HomeSure Lending, Peak Wealth Management, Ann Arbor Elder Law, the Residence Inn Ann Arbor Downtown, the University of Michigan Alumni Association, Michigan Law Grad, Human Element, The Phil Klein Insurance Group, FuegoBox, and Perrin Brewing
--------------------------------------------
[After THE JUMP: A dozen done dirty]
1. Backcourt & Sparty No!
starts at 1:00
The Sparty No!ment: give up a Vinny Testaverde Techmo Bowl first down, get a gift PI call, unnecessary fire drill field goal they make but there's a 12th guy on the field, misses the second by lots, complains about officiating: CALL 9-1-2! Shape of the program could change radically. Up-tempo? Turnovers? Posting? Auto-benching no more? Who are we? X's team, obviously. X should learn a left hook. The two is a ???? but we're guessing it's Teske despite being huge for the two because that seems the most promising lineup. DDJ and Nunez had disappointing starts for guys with supposedly great shots. Bajema is a Caris-ian X factor.
2. Frontcourt
starts at 32:45
What's Livers, and what happens when he tries to basketball more because he seems to be a pretty good basketball player. His pull-up is a good bad shot. His defense is statistically Matthews-like but not Matthews-like. Michigan needs him on the court as much as possible. The four is Brandon Johns or Livers, pending a big leap from Brandon Johns that could mean a lot for this team. Certainly he's an athlete, numbers shot up, is jacked, decent shooter in high school, what does Juwan want to do with a GRIII type? If it's rebounding and athleticism Johns is in business. Colin Castleton: Reuvers-style four? Certainly a Wagner-style five when Teske is off the floor, which is like never. Second to Bol Bol in high school at swatting. What do you want Teske's foul rate to be? They also have a 6'10" guy from Columbia (not THAT Columbia).
3. Big Ten Hoops Outlook
starts at 59:46
Hot takes of the week. The conference looks weird: big one and everyone else. Michigan State gets back Winston and Tillman, the end. Aaron Henry looks like he's going to be a player too. Torvik has a mess after that: Purdue (#7 nationally), return Haarms, no Carsen Edwards, Eastern as a PG..this is way overrating Purdue? Turgeon's coaching is now underrated; time to take the Terps seriously. Illinois: if Dosunmu isn't one of the best players in the conf it's an upset. OSU has a point guard. Torvik has PSU #19 in the country but uh… Wisconsin's scorer is…oh we're going to hate this team. Michigan shouldn't be behind a team replacing its entire offense and a team that's like How do you offense? Next team on this list is Rutgers after a disaster of an offseason—Torvik loves Geo Baker maybe? Indiana bad but they added Joey Brunk. His Hoop-Lens on/off splits are incredible:
4. Around the Big Ten wsg Jamie Mac
starts at 1:36:15
The John L. Smith special. El Assico ends in the most El Assico way possible after they build weird scores with 2's and 3's. Minnesota lucky to to be 0-3 against three cupcakes. OSU murderates Indiana, who loses Penix, OSU looks complete. Penn State plays an MSU game with Pitt, as Pitt does. Narduzzi went for a field goal down 7, 4th and goal from the one, burned a timeout….WTF!?! Missed it of course. Pitt also outgained them. Maryland's offense fizzles out behind a bad OL. Purdue bloops out to TCU.
MUSIC:
"12 And Pinball"—Sesame Street
"Number Song"—DJ Shadow
"Down for the Count"—Reflection Eternal
"Across 110th Street"
THE USUAL LINKS:
And we made it this far without talking about the State game.