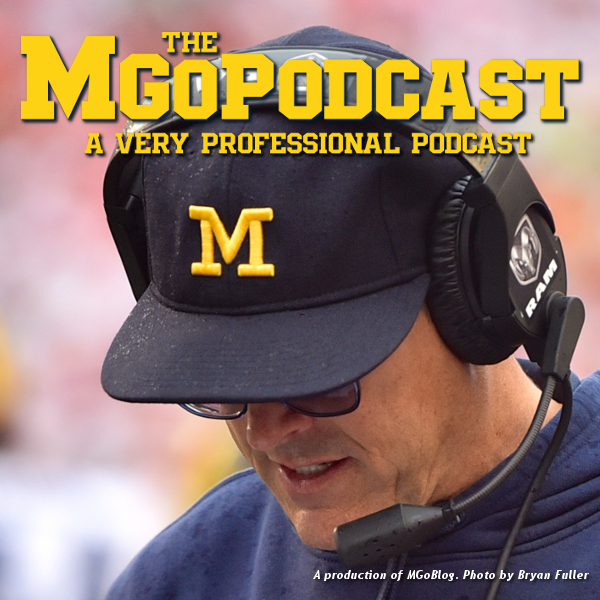 Well he's got a hat, it's not nothing. It's something, a hat that says nothing.
The Sponsors
We can do this because people support us. You should support them! The show is presented by UGP & The Bo Store, and if it wasn't for Rishi and Ryan we'd be all be very sad ex-Vox employees with "real" jobs.
Our other sponsors are also key to all of this: HomeSure Lending, Peak Wealth Management, Ann Arbor Elder Law, the Residence Inn Ann Arbor Downtown, the University of Michigan Alumni Association, Michigan Law Grad, Human Element, The Phil Klein Insurance Group, FuegoBox, and Perrin Brewing
--------------------------------------------
[After THE JUMP: It's all Brian's fault. All of it.]
1. The Existential Crisis
starts at 1:00
If you can't get Jim Harbaugh to work at Michigan what is going to work at Michigan? Ace has an Arby's hat on. Harbaugh's worst team ever relative to expectations. Miss organized Harbaugh. It's incredible that every gamble didn't work out. Michigan since the Indiana game last year has been 14 points under the spread in every game. Why does Michigan not have defensive tackles? It goes back to recruiting two years ago when they're airballing on everybody. Gattis: looks like Michigan took a swing and it was a bad bet. We're stuck with Harbaugh until he's done. He'll have some decent teams and face. How did Harbaugh's track record with quarterbacks evaporate?
2. "Offense"
starts at 26:55
Jon Runyan got 20% as many carries as Charbonnet—we want you to pass but not give up on your running game entirely. And surprise: as soon as you start chucking it to your great receivers the ball starts moving. It seems like Gattis was a shot they had to take and they missed. Ronnie Bell's review was a catch—Mike Peirera said if they called it the other way he would have reversed it to a catch. Mason's fumble: he took two shots directly to the ball. Hooray: Michigan just has the shittiest luck in college football except maybe Northwestern.
3. "Defense"
starts at 39:44
Hot takes of the week reveals Brian is at fault for Michigan football, USA Soccer, Ann Arbor politics, and everything else wrong with this world. The DTs can't hack it, but your chicken salad is treating Jordan Glasgow as a DT? Old Don Brown thing getting exposed again: show man, get man, they run a man beater on 4th down. Basically everything has gone to hell and I'm at peace with it.
4. Around the Big Ten wsg Jamie Mac
starts at 51:50
Indiana struggling on the offensive line, just lost Coy Cronk. Ohio State points, Not THAT Miami was up 5-0 at one point. Art Sitkowski 9.2 YPA hello. Northwestern turned the ball over a bunch to MSU. Nebraska-Illinois how does this happen (Nebraska has our fluck). Brandon Peters was terrible. Maurice Washington left the game (hate to see it). There's no good games any week apparently. Did anyone stay up for the Wazzu game?
MUSIC:
"Wise Up"—Aimee Mann
"All of My Life"—Kevin Morby
"On the Rocks"—The Rural Alberta Advantage
"Across 110th Street"
THE USUAL LINKS: