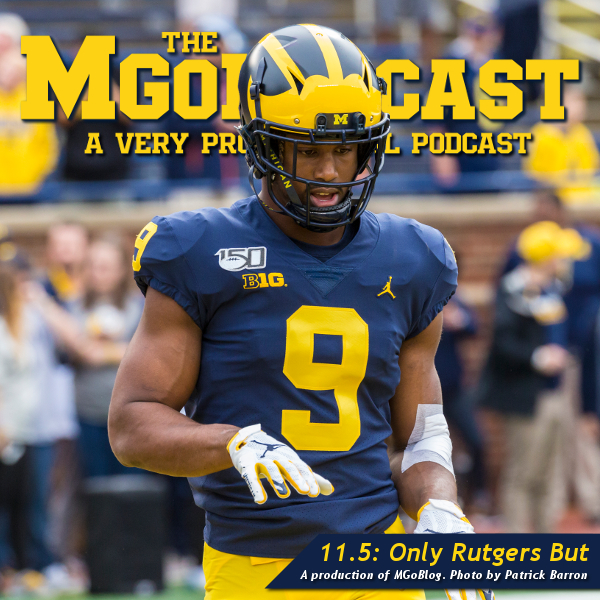 There were things that would have made me feel better if it wasn't against Rutgers
The Sponsors
We can do this because people support us. You should support them! The show is presented by UGP & The Bo Store, and if it wasn't for Rishi and Ryan we'd be all be very sad ex-Vox employees with "real" jobs.
Our other sponsors are also key to all of this: HomeSure Lending, Peak Wealth Management, Ann Arbor Elder Law, the Residence Inn Ann Arbor Downtown, the University of Michigan Alumni Association, Michigan Law Grad, Human Element, The Phil Klein Insurance Group, FuegoBox, and Perrin Brewing
--------------------------------------------
[After THE JUMP: positivity if you can tunnel vision]
1. The Offense
starts at 1:00
Do you feel better? There was a rushing Rutger. Got rid of almost all the RPOs and just did play-action. That helped the pass protection, though Mayfield seems to be on par with Runyan in that. No Patterson runs until the goal line: He is this year's Hammerin' Panda. More things that made sense: Bona fide bubble screen to DPJ with all three receivers on the same side of the ball, and bombs away! Limited running game: Milton comes in and Hassan Haskins starts getting yards because the zone read game is on again. Turner remains slippery.
2. The Defense
starts at 24:40
Mesh throws: one was pretty blatant OPI but was going to work anyway because McGrone was out of position. Would like to see some dedicated mesh defense. More diverse between Cov1 and Cov2 now. Dwumfour step 1: out there. Can't keep Uche on the field because we can't play three defensive linemen. McGrone got a start with Ross in a boot, made Bush plays, was comfortable. Guy gets lit up by Dax Hill to save his team 10 yards so dap cheese to that guy. Dax pushing past Woods now. No Mazi or Hinton until super late; last play was Hinton—not ideal that Jess Speight is out there first.
3. Special Teams/Game Theory
starts at 42:56
Hot takes. New strategy for special teams: push your own guy into an accidental block in the back. North Carolina do you go for two? You gotta have a better play than running laterally against Clemson. If there's enough time like that left you shouldn't incentivize Clemson to go balls out.
4. Around the Big Ten wsg Jamie Mac
starts at 1:02:20
Iowa did better than we did against MTSU's all outside offense. Alaric Jackson could be back this week. Penn State looks good after demolishing Maryland. Go with Piggy! Northwestern handled Wisconsin's offense. Classic Indiana tries effort. Minnesota-Purdue one of the most remarkable stat lines: Tanner Morgan.
MUSIC:
"Parquet Courts"—Back to Earth
"Dayls Like This"—MorMor
"Hindsight"—Built to Spill
"Across 110th Street"
THE USUAL LINKS: