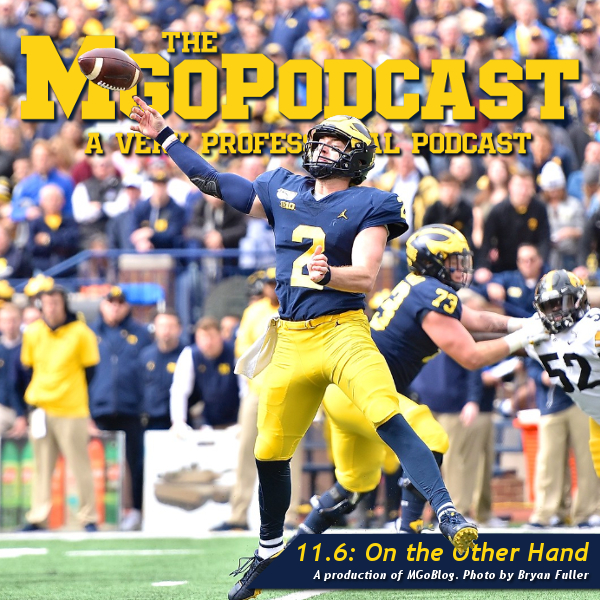 THE SPONSORS
We can do this because people support us. You should support them! The show is presented by UGP & The Bo Store, and if it wasn't for Rishi and Ryan we'd be all be very sad ex-Vox employees with "real" jobs.
Our other sponsors are also key to all of this: HomeSure Lending, Peak Wealth Management, Ann Arbor Elder Law, the Residence Inn Ann Arbor Downtown, the University of Michigan Alumni Association, Michigan Law Grad, Human Element, The Phil Klein Insurance Group, FuegoBox, Perrin Brewing, and The Athletic
--------------------------------------------
[After THE JUMP: on the one...]
1. The Offense
starts at 1:00
Did that look like the #14 team in the country? Michigan is +4 in turnovers too. Patterson had an O'Korn performance. Terrible INT on a high-low read anybody should be able to make. First throw of the day is nearly intercepted too. Terrible sack he takes—Joel Klatt: "coverage sack"—literally every receiver is open. We're ready for McCaffrey at this point given Patterson's regression. One keeper and everyone says hurrah, and no more from the arc zone game until the 4 minute drill. What were you doing this offseason? Running game is getting nothing now because it's so simplified. Pass pro wasn't bad; Patterson made it look worse.
2. The Defense
starts at 23:54
Dominant performance. Stanley under siege: Michigan was sending their OLBs against Wirfs and Alaric Jackson while Kwity was winning inside. Key drive at the end Alaric Jackson has to tackle Michigan's edge guys. Blitz package was great: Iowa goes five-wide, Michigan consistently got McGrone through. Surprised Stanley didn't fumble when he was Statue of Liberty'ing the ball. Hello Mr. Dwumfour. Four-DE package was killer. Ace: they suckered Iowa into a passing down in the redzone. Stanley's "pre-snap read" to Lavert Hill was thrown too well. Revenge fade to Oliver Martin—Ambry lucky it was uncatchable. Clearly there was supposed to be a safety over the top when Hill got beat. Shout out Khaleke for his run defense.
3. Special Teams/Game Theory
starts at 42:56
If you take a TO to ice the kicker, the HC has to take a Gatorade bath. Running short of the sticks: who thought that was a good idea and why are we doing it? Maybe don't kick pop-ups to one of the kick returners in the conference? Didn't put two guys back on 4th and 20, let the Aussie angle it. Mirror Ferentz showed once, but had a shot in Michigan's territory when Michigan declined the delay of game penalty. Michigan finally got some fluck. Homecoming: we didn't get the traditional band show with Temptation/Hawaiian War Chant.
4. Around the Big Ten wsg Jamie Mac
starts at 1:02:20
Heisman stat padding afternoon for Jon Taylor. Purdue's out literally half their team vs Penn State; Louisville's going to have a better season than Purdue this year. The Journey: Rutgers. Blackshear and Sitkowski both redshirting to preserve eligibility for somewhere other than Rutgers. Tanner Morgan follows up 21/22 with not that. Pat Fitzgerald triple-ices kicker instead of getting another drive.
MUSIC:
"The Slow Descent Into Alcoholism"—The New Pornographers
"It Hurts Until It Doesn't"—Mothers
"Randy Described Eternity"—Built to Spill
"Across 110th Street"
THE USUAL LINKS: