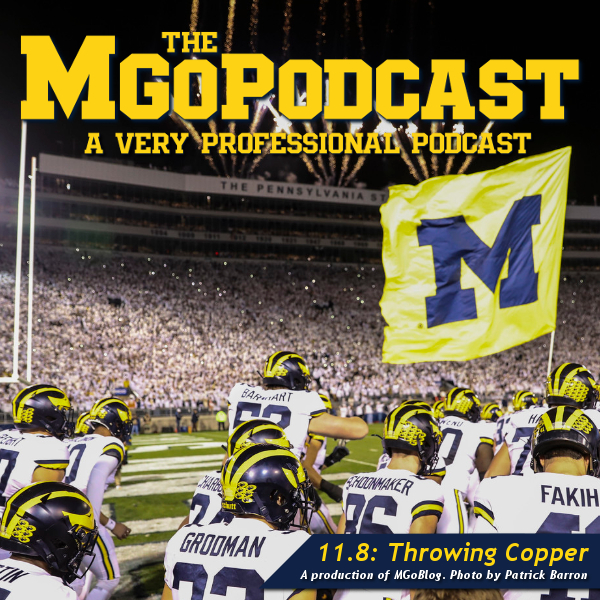 Do you blame Jim Harbaugh? No I blame Hoobastank.
THE SPONSORS
We can do this because people support us. You should support them! The show is presented by UGP & The Bo Store, and if it wasn't for Rishi and Ryan we'd be all be very sad ex-Vox employees with "real" jobs.
Our other sponsors are also key to all of this: HomeSure Lending, Peak Wealth Management, Ann Arbor Elder Law, the Residence Inn Ann Arbor Downtown, the University of Michigan Alumni Association, Michigan Law Grad, Human Element, The Phil Klein Insurance Group, FuegoBox, Perrin Brewing, and The Athletic
--------------------------------------------
[After THE JUMP: ack]
1. The Offense
starts at 1:00
A few ways Michigan could have won. One would have been to catch the damn ball. Another would have been anything approximating even officiating because OMFG. Three would have been to recruit KJ Hamler. Bubble screens worked: yay. Shea had his best game this year but drops: DPJ had three. Great tradition wmith Herbstreit is when he does the downfield cam and sees nobody open when a lot of people are actually open. Why can't we run a screen? TE blocking problems. Finally they didn't fumble, and they dropped all the balls.
2. The Defense
starts at 26:43
Give up 283 yards and more than half of that is on four plays, including the Freiermuth pushoff. Penn State targeted two wide receivers this game. A few bad matchups but seriously they shut them down. Michigan's not Ohio State good, and Ohio State is the only kind of team that can overcome a team as decent as Penn State getting the calls they got.
3. Special Teams/Game Theory
starts at 41:52
Three horrible fourth down decisions. Punting on 4th and 1 in plus territory, and your punter is terrible at pinning guys deep! Punt on 4th and 3 in the deep 3rd quarter. Surprised Penn State didn't put Hamler back there for the 58-yard field goal when you don't have Nordin available (they did, then called a timeout). This is the stuff the rest of college football has fixed. Frames called timeout on himself when there's 21 seconds left and he knows he's gonna punt.
4. Around the Big Ten wsg Jamie Mac
starts at 56:58
Jamie regretting he left his BPONE comfy chair. Brandon Peters mom dropping bombs on Twitter. Illinois had zero trips into the red zone, Peters is 9/21. Whole Rutger ruined, Rashad Batemen is a dude. New Gopherquests: Minnesota could go 12-0, and Rutgers could be the worst team in the history of the Big Ten. Iowa controls their own destiny in the Big Ten West now. IU's defense has improved.
MUSIC:
"Semi-Charmed Life"—Third Eye Blind
"Hopefulessness"—Courtney Barnett
"Plastic Beach"—Gorillaz
"Across 110th Street"
THE USUAL LINKS: