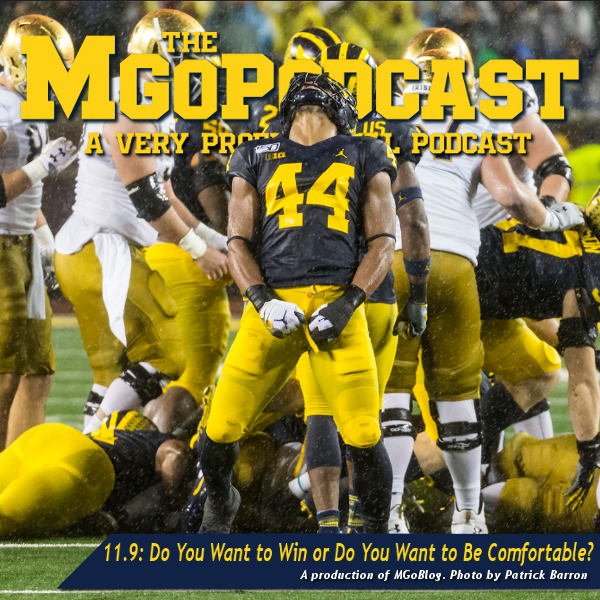 I enjoyed his tweet afterwards; he got himself a milkshake and a gas station hot dog because he deserved it.
THE SPONSORS
We can do this because people support us. You should support them! The show is presented by UGP & The Bo Store, and if it wasn't for Rishi and Ryan we'd be all be very sad ex-Vox employees with "real" jobs.
Our other sponsors are also key to all of this: HomeSure Lending, Peak Wealth Management, Ann Arbor Elder Law, the Residence Inn Ann Arbor Downtown, the University of Michigan Alumni Association, Michigan Law Grad, Human Element, The Phil Klein Insurance Group, FuegoBox, Perrin Brewing, and The Athletic
--------------------------------------------
[After THE JUMP: Spam]
1. The Offense
starts at 1:00
Spanellis: They call him Spam. Michigan rushes for 200 yards in the rain in a half. Whams and traps: Old Harbaugh stuff comes back (*cough cough just like Seth said they should in Foe Film cough*). A new bubble action gets Charbonnet past the safeties—that's how you get chunks! Brought out Down G, a big play on an arc keeper. Eubanks gave a guy a hammer panda. Ruiz and Onwenu were excellent at picking up blitzes on pin & pull, where you have to stop and pick that guy off. Went back to what they did last year and it turns out they run it well. Throwing it to Nico: how many times does he get interfered with? Turner: despite fumble issues, let's fix that and get this guy back in the rotation. If you play Jim Harbaugh and he's running 80% of the time you had a bad day.
2. The Defense
starts at 34:06
Michigan students are incredible towel-throwers. Agree it was harder to hit Cole Kmet than the camera. John O'Neill: the worst. Kelly got crap for throwing in a hurricane but he couldn't run either. Ian Book was bailing clean pockets. ND was running man beaters against Cover 2. Got crushed by Michigan's 3-3-5 stack even. Kemp had a great game. McGrone has Devin Bush speed with a greater physical package, but he's not a direct comparison: Bush has unreal anticipation too. The Hawkins INT taken away was a solid #2 all-time after the Northwestern call on Higdon. Brian Cook is the world's only John O'Neill defender.
3. Special Teams/Game Theory
starts at 57:04
Low-hanging fruit from Texas Tech and Notre Dame. Okay with field goal because you could be in an Iowa-Northwestern situation. DPJ had to stop fielding pouncing footballs in the rain. Poncho take: get the pyramid kind with the arms inside because then you can go in a cocoon and go on Twitter. Sad ten-second runoff. Weather destroyed Book and they didn't have a plan B, but this was on par with Wisconsin/PSU wins last year. They've come a long way since last September.
4. Around the Big Ten wsg Jamie Mac
starts at 1:19:13
A lot of bad offenses, a lot of rain. Mick McCall vs Iowa goes how that matchup was going to—Reigning Big Ten West Champs Northwestern could not win any Big Ten games. Rutgers upsets Liberty—Johnny Langan don't go out like that to Hugh Freeze. Illinois has bowl eligibility in the likelihood column: has Rutgers and Northwestern (and MSU on the road). State scored (darn) but the beauty of Dantonio's quotes is… Hamler not going here is sad, the reason he gave for not going to MSU is beautiful. Julian Barnett transfer? Row the boat! Ohio State doesn't need to practice anymore. WHOP! Luke McCaffrey debut. IU's football program is in better shape than their basketball program. #Ninewindiana requires a win at PSU or when Michigan visits.
MUSIC:
"One More Night"—Stars
"They'll Need A Crane"—They Might Be Giants
"Don't Leave Me This Way"—Lee Fields
"Across 110th Street"
THE USUAL LINKS: