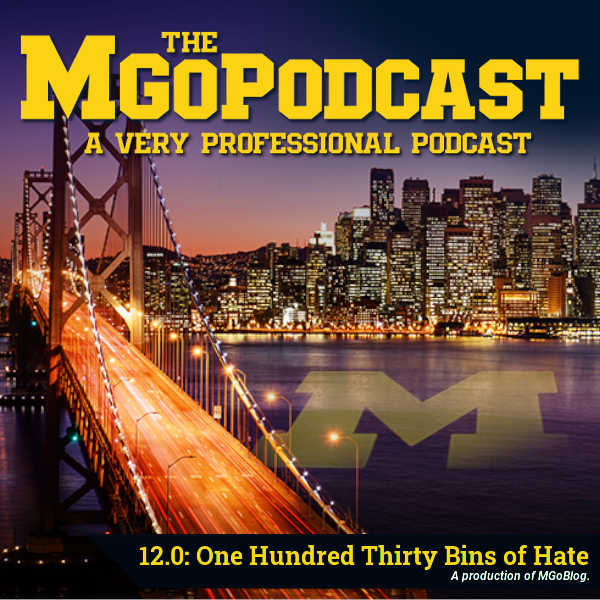 This episode was recorded on a Zoom call with the UM Alumni Association Club of Greater San Francisco. Thank you to Jacqueline Miller and Tyler Tokarsky for having us.
We can do this because people support us. You should support them! The show is presented by UGP & The Bo Store, and if it wasn't for Rishi and Ryan we'd be furloughed SBNation writers right now. Proceeds from the "Those Who Stay Home" collection are going to support our front line workers at Michigan Medicine.
Our associate sponsors are also key to all of this: HomeSure Lending, Ann Arbor Elder Law, the Residence Inn Ann Arbor Downtown, Michigan Law Grad, Human Element, The Phil Klein Insurance Group, and FuegoBox
1. It's
Over

Postponed/What Now?

starts at 1:00

Reaction to the Big Ten canceling fall sports, understanding the decision process (glad it wasn't us). It can be the right decision and they could still have gotten it wrong, if that makes sense.

[The rest of the writeup and the player after The Jump]
2. Basketball
starts at 18:40
Picked up a few top 50 commits. This is a Beilein class, isn't it?
3. Q&A with the UM Club of Greater San Francisco
starts at 38:53
This podcast was actually very visual: we did it on a Zoom call with the San Fran UM Club, who had some excellent questions and pirate question.
4. Hot Takes and Gimmicky Top Five Worst Ideas to Have a Football Season
starts at 1:27:35
Hotter takes than an Iowa parent's letter to the Big Ten office.
MUSIC:
"It Was Over Before It Even Began"—Stephane Huguenin
"Sympathy for the Devil"—Rolling Stones
"It's Not Happening"—The Be Good Tanyas
"Across 110th Street"