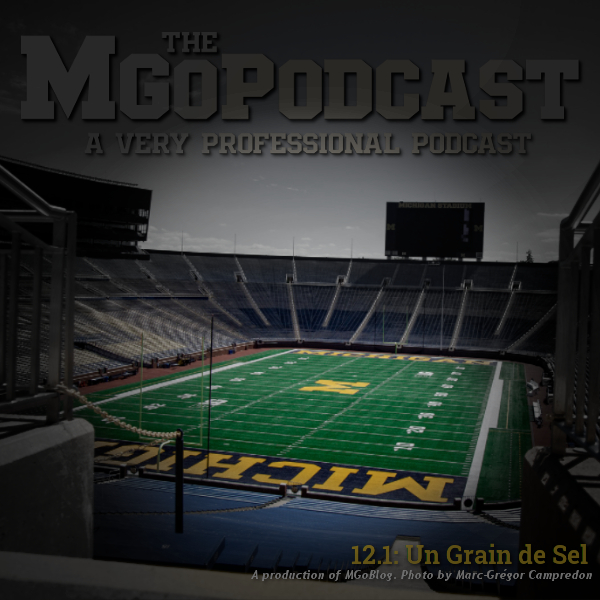 It looks like there will be football this fall, which means there will be hockey this fall, which is all I really care about.
We can do this because people support us. You should support them! The show is presented by UGP & The Bo Store, and if it wasn't for Rishi and Ryan we'd be furloughed SBNation writers right now. Proceeds from the "Those Who Stay Home" collection are going to support our front line workers at Michigan Medicine. Our associate sponsors are also key to all of this: HomeSure Lending, Ann Arbor Elder Law, the Residence Inn Ann Arbor Downtown, Michigan Law Grad, Human Element, The Phil Klein Insurance Group, and FuegoBox
[Hit THE JUMP for the writeup and the player]
1. Is football back? How?
starts at 1:00
The rumor is the Big Ten could resume play as soon as October 17th because there's a rapid saliva test that they think they'll have available on campus. Idea would be eight games + conference championship game a day before the playoff selection. How would this season look? Who made it happen? Call the Pac 12?
2. Game of the Week: Under the Lights
starts at 28:24
Apologies to Don Criqui? The first three quarters until the Lewis Kapron-Moore hanging on Denard play never happened. Denard-Borges in history, reassessing early Mattison, omigod the depth chart. Kovacs will be #32 forever. Notre Dame was stacked.
3. Observed Behaviors in Squirrels and Other Small Creatures During COVID
starts at 46:38
Gimmicky top five of things we've watched dogs and kids and kids that act like dogs do.
4. Hot Takes and Gimmicky Top Five Worst Ideas to Have a Football Season
starts at 1:16:05
Seth saves his real hot take for the analysis. Recruiting cycle blown up by the roster issue with last year's class being this year's class now. Cost us Drew Kendall most likely, might cost us a linebacker, and a Markus Allen. Frankie Collins and potential for a 5-star who sticks around four years?
MUSIC:
"Back for a Taste of Your Love"—Syl Johnson
"Building Steam with a Grain of Salt"—DJ Shadow
"With Arms Outstretched"—Rilo Kiley
"Across 110th Street"
THE USUAL LINKS: