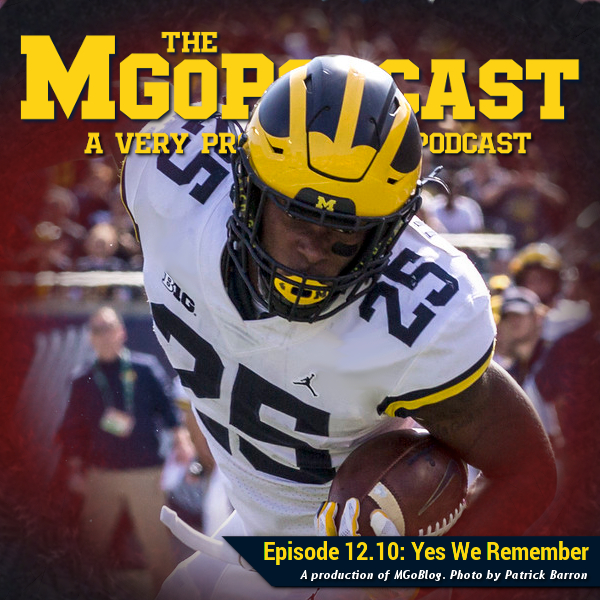 We are, as always, presented by UGP & The Bo Store, and if it wasn't for Rishi and Ryan I might be doing a podcast on how the election might affect environmental regulations in water & wastewater. Our associate sponsors are also key to all of this: HomeSure Lending, Ann Arbor Elder Law, the Residence Inn Ann Arbor Downtown, Michigan Law Grad, Human Element, The Phil Klein Insurance Group, FuegoBox, and Information Entropy.
1. Offense/Clock Management/State of the Program
starts at 1:00
All hail the Cade McNamara era, which began mid-way through the fifth game because. He's sharp, not perfect, and it's Rutgers. Also hail lead running back Hassan Haskins, whose cutbacks were the design of the play and righteous. Bell was a force everywhere but the stat sheet. We still can't pronounce Filiaga any better than he can block. Clock management was ludicrously bad.
[The rest of the writeup and the player after The Jump]
2. Hot Takes + Defense
starts at 22:07
Let's read Vedral's passing stats. The biggest problem was Dax Hill; Seth thinks the coaching situation at safety is really showing. Ross was picked on until he got through the pick. Their 3-3-5 isn't a great pass defense either because the extra linebacker, Ben Van Sumeren, isn't very good in coverage. Cornerbacks were not a problem this time; small favors. The walk-on safety and linebacker were not issues either.
3. 2020 Hoops Preview: Bigs, and Rotation Predictions
starts at 44:07
The minutes crunch pushes three potential starters into this spot. We think Johns is going to get the most minutes because he can quasi-start at the four along with all the wings, and gives them the best late-game opportunity. He's streaky. Big Country is a great slop-baller with legit post moves but limited defense. The wild card is the 7'1" freshman, who shoots left-handed, and can do so.
4. Around the Big Ten wsg Jamie Mac
starts at 1:04:15
We actually have to talk about Ohio State this time because Indiana came within a touchdown in their top-ten matchup; Allen coached a masterful game but they had one too many mistakes to pull off the upset the top 49 states in the union were rooting for. Penn State started the new guy and benched him for the old guy, their OL is abysmal, and they should be favored (they're not). Nebraska wore their black shirts to be pants by Illinois. Northwestern's defense shut down Wisconsin because 72-year-old Hankins still run's Bo's defense in Evanston.
MUSIC:
"Beach House"—The Hours
"Make My"—The Roots
"Buddy"—The Orwells
"Across 110th Street"