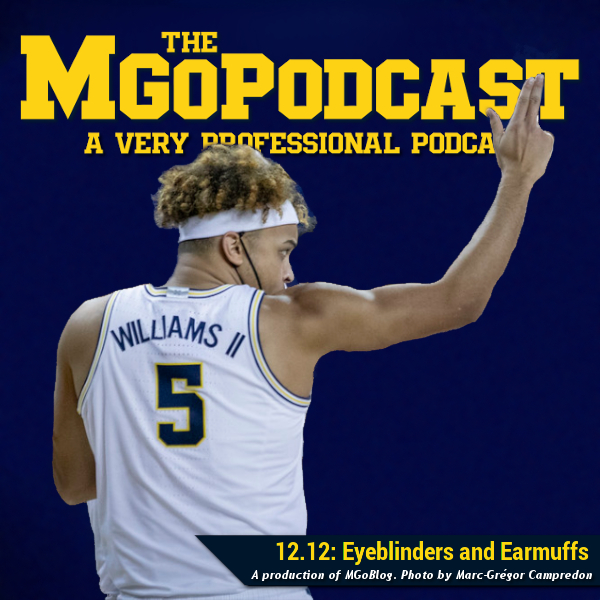 The Sponsors
Thank you to Underground Printing for making this all possible. Rishi and Ryan have been our biggest supporters from the beginning. They're also behind our Ann Arbor Institutions t-shirt program. They have awesome custom tees and hoodies and low, affordable prices. They also have tons of great Michigan apparel that you can wear proudly to support the maize and blue! Check out UGP's holiday gift guide at ugp.io/holidaygiftguide and use the promo code HOLIDAY for 25% off your next purchase!
Our associate sponsors are also key to all of this: HomeSure Lending, Ann Arbor Elder Law, the Residence Inn Ann Arbor Downtown, Michigan Law Grad, Human Element, The Phil Klein Insurance Group, FuegoBox, and Information Entropy.
1. UCF Recap
starts at 1:00
We liked 65% to 85% of that game, depending on whether we were bothered by Kenpom time. Being bothered by Dickinson's minutes at the beginning isn't original anymore. Being bothered at block/charge calls on the other hand.
[The rest of the writeup and the player after The Jump]
2. Harbaugh Extension?
starts at 23:18
The news so we discuss its likelihood, what it means for Harbaugh and the staff, and then try to talk ourselves into it when we're really more of the opinion that we'll just have to do it again soon..
3. Hot Takes, Women's Hoops, and Hockey
starts at 41:52
Muppets-worthy win over Notre Dame for the women's hoops team, which has more than Naz as the two Browns, one homegrown the other stolen from Nebraska's bench, have created one of the best forward groups in the country. Amy Dilk is coming on now too with a lot fewer turnovers. Hockey, well, it was and it wasn't. They are young, and getting pillaged for the next series.
4. Around the Big Ten wsg Jamie Mac
starts at 1:04:15
Indiana football. Frames punts on 4th and 1 and it goes 20 yards. Possible play-in opponents.
MUSIC:
"Running"—Baby Huey
"The Good Times Are Killing Me"—Modest Mouse
"I Don't Know"—Naomi Shelton & the Gospel Queens
"Across 110th Street"
THE USUAL LINKS: