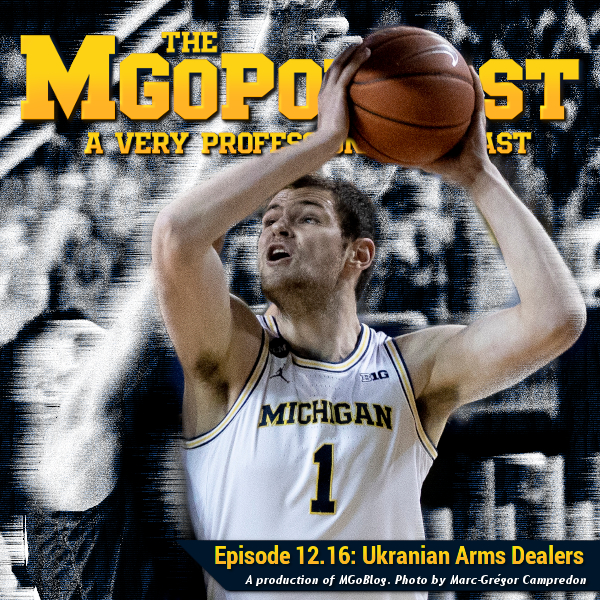 The Sponsors
Thank you to Underground Printing for making this all possible. Rishi and Ryan have been our biggest supporters from the beginning. They're also behind our Ann Arbor Institutions t-shirt program. They have awesome custom tees and hoodies and low, affordable prices. They also have tons of great Michigan apparel that you can wear proudly to support the maize and blue! Check out UGP's holiday gift guide at ugp.io/holidaygiftguide and use the promo code HOLIDAY for 25% off your next purchase!
Our associate sponsors are also key to all of this: HomeSure Lending, Ann Arbor Elder Law, the Residence Inn Ann Arbor Downtown, Michigan Law Grad, Human Element, The Phil Klein Insurance Group, FuegoBox, and Information Entropy.
1. Northwestern Recap
starts at 1:00
Michigan is so hard to strategize for. Hunter Dickinson demands a double, and you can't double him. Running horns with a high-low—incredible that they're already on the back end of the playbook at this point in the program. Rules say you can't do a pullup on the rim but Seth is still mad they T'd up Chaundee. Announcers versus added probabilities.
The rest of the writeup and the player after The Jump]
2. Maryland Recap
starts at 36:22
Serious discussion on whether Hunter Dickinson has ties to the Ukranian mafia. Michigan goes 2-3 zone and sticks with it, and Michigan goes on a run. Dickinson's flex earns an awful technical. Maryland shoots the lights out and still can't compete. Having a hard time not saying things about Juwan that are fair for a 2nd year coach.
3. Harbaugh's NFL Flirtation
starts at 1:12:40
Toledo reporter Jordan Strack has it on good sources that Harbaugh's looking around at NFL jobs, and probably would prefer to take one if they call. Would they call? The NFL has taken far worse ideas than a guy who went to the Super Bowl in the third year of a four-year rebuild. So…Soup? Soup.
4. Hot Takes and Around the League
starts at 1:32:28
This conference is ridiculous—three centers are in the Kenpom Top 10 and a fourth got pushed out for Marcus Carr. We love Both (pronounced Booth") Gach. May not be the only Disaster Factory on Minnesota. We cursed Armaan Franklin into a sprained ankle by saying he's the reason IU is so much improved.
MUSIC:
"I Fall in Love Every Night"—Born Ruffians
"What We Haven't Got Yet"—JAWS
"Please Don't Call Me Crazy"—The Cactus Blossoms
"Across 110th Street"