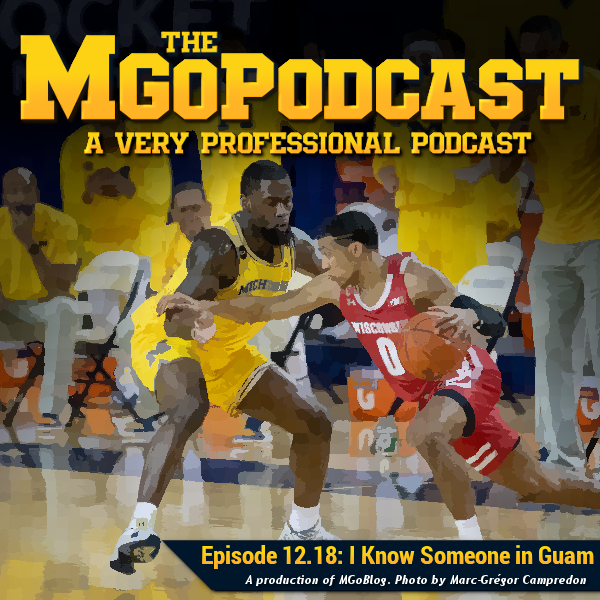 1 hour and 16 minutes
The Sponsors
Thank you to Underground Printing for making this all possible. Rishi and Ryan have been our biggest supporters from the beginning. They're also behind our Ann Arbor Institutions t-shirt program. They have awesome custom tees and hoodies and low, affordable prices. They also have tons of great Michigan apparel that you can wear proudly to support the maize and blue! Check out UGP's holiday gift guide at ugp.io/holidaygiftguide and use the promo code NEWYEAR for 25% off your next purchase!
Our associate sponsors are also key to all of this: HomeSure Lending, Ann Arbor Elder Law, the Residence Inn Ann Arbor Downtown, Michigan Law Grad, Human Element, The Phil Klein Insurance Group, FuegoBox, and Information Entropy.
1. Hoops vs Minnesota (the bad one)
starts at 1:00
Michigan gets the Barn. I guess Eli Brooks really does matter to this team. Twenty turnovers. We keep saying these two things, basically.
The rest of the writeup and the player after The Jump]
2. Hoops vs Wisconsin (the good one)
starts at 19:39
Hoooooooly hoops. Mike Smith won't back down. Eli Brooks shut you down. Isaiah Livers energy man and finding his role again. Chaundee Brown miserable to go against. Franz…oh man Franz is the freakiest freak show ever, in line for a badge upgrade on D. Dickinson broke Reuvers.
3. Big Ten Hoops
starts at 38:24
Nebrasketball and State are out for COVID concerns so just a few games to round up, and fewer that matter. Brian stans for Iowa, which they're Iowa why are you getting into a shootout with them, Northwestern? Ohio State on an incredible luck streak. Rutgers on the receiving end of that luck streak. Penn State-Purdue was mostly entertaining for the Beilein memories.
4. Hot Takes, Hockey, and WBB
starts at 1:09:25
Good hot takes, hockey swept OSU and it felt good, though special teams still feel unspectacular. WBB blew out the bottom of the conference.
MUSIC:
"Let You Down"—Those Darlins
"Transitions"—Beastie Boys
"There Must Be More Than Blood"—Car Seat Headrest
"Across 110th Street"