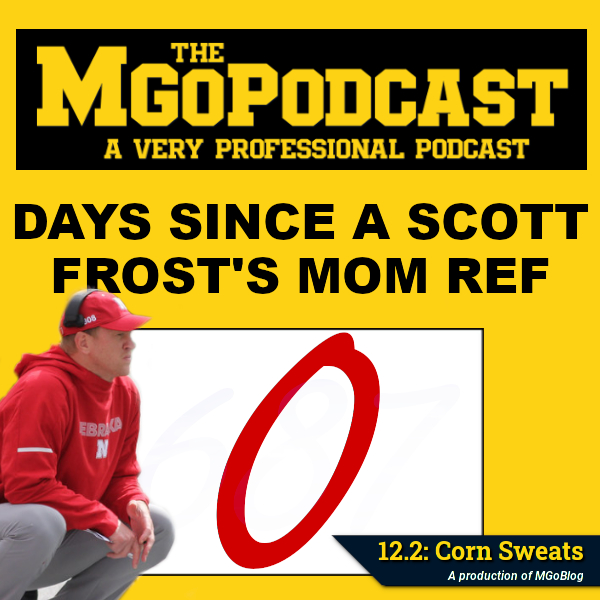 Who has Alaska played anyways?
We can do this because people support us. You should support them! The show is presented by UGP & The Bo Store, and if it wasn't for Rishi and Ryan we'd be furloughed SBNation writers right now. Our associate sponsors are also key to all of this: HomeSure Lending, Ann Arbor Elder Law, the Residence Inn Ann Arbor Downtown, Michigan Law Grad, Human Element, The Phil Klein Insurance Group, and FuegoBox
[Hit THE JUMP for the writeup and the player]
1. Football is Back. Okay?
starts at 1:00
Addressing the hottest takes against bringing back Big Ten football with daily rapid COVID testing and a 21-day sit-out period. Basically this.
[The rest of the writeup and the player after The Jump]
2. Football Bits
starts at 19:42
Jalen Mayfield is back, Ambry and Nico won't be, and we're at different places regarding the Joe Milton hype that apparently pushed out McCaffrey. Position-by-position news and discussion basically.
3. Hot Takes and Gimmicky Top Five Things Nebraska Fans Should Be Mad About
starts at 48:29
How long does it take to get a Seth bit anyway?
4. Recruiting
starts at 1:10:11
Exit what's his name. Losing a 5-star basketball player to [checks notes] Stanford? Next year's class is going to be all kinds of messed up.
MUSIC:
"Sprawl I (Flatland)"—Arcade Fire
"Egg & Daughter Nite, Lincoln Nebraska, 1967 (Crazy Bone)"—John Prine
"Ballad of the Dying Man"—Father John Misty
"Across 110th Street"