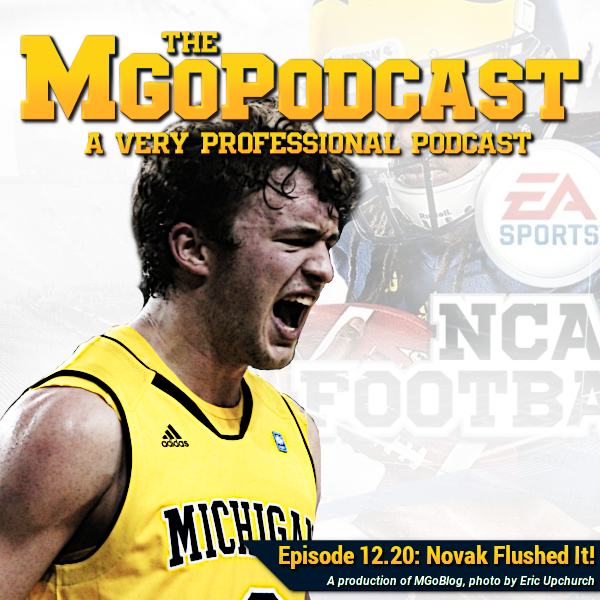 The Guest
Zack Novak joined us for a segment, which is reason enough to put his Chicks Dig Scars shirt back up (think they're organized by date created so you have to scroll to the end). Worth noting that Spike Albrecht does not have a shirt in the MGoStore.
The Sponsors
Thank you to Underground Printing for making this all possible. Rishi and Ryan have been our biggest supporters from the beginning. They're also behind our Ann Arbor Institutions t-shirt program. They have awesome custom tees and hoodies and low, affordable prices. They also have tons of great Michigan apparel that you can wear proudly to support the maize and blue! Check out UGP's holiday gift guide at ugp.io/holidaygiftguide and use the promo code NEWYEAR for 25% off your next purchase!
Our associate sponsors are also key to all of this: HomeSure Lending, Ann Arbor Elder Law, the Residence Inn Ann Arbor Downtown, Michigan Law Grad, Human Element, The Phil Klein Insurance Group, and Information Entropy.
1. Football Recruiting Doesn't Suck Again
starts at 1:00
Mo Linguist has been loosed in the Volunteer state and is making it into the new Massachusetts. Also three DTs, one or two or all three perhaps ticketed for nose, when it looked like none.
The rest of the writeup and the player after The Jump]
2. Gimmicky Top Five Elements to Add to New NCAA Game
starts at 26:00
I didn't realize this would be serious things until right before the podcast so I'll have to write an extensive article about all of my ideas later. More or less we're looking for a Crusader Kings II version of dynasty mode, with the Madden engine and more cheating.
3. Big Ten Shootaround
starts at 49:15
We go over what we've watched of the league. Illinois has figured out how to get Ayo right, Wisconsin can't get Reuvers fixed and dies on the nights their fives can't hit a three. Ohio State is weird, gets to the line, and can't be ignored—credit to Chris Holtmann, who can't recruit for some reason. Also Iowa: should they ever try to play defense? Also Michigan State.
4. The Zack Novak Hour
starts at 1:29:52
The true story of the legendary dunk contest. The Twitter beef with former Purdue point guard Spike Albrecht. Playing for Beilein. The secrets of Sanderson revealed!
MUSIC:
"Scratch My Itch"—The Soul Snatchers
"Getting On in Spite of You"—Remember Sports
"War"—Mos Def
"Across 110th Street"