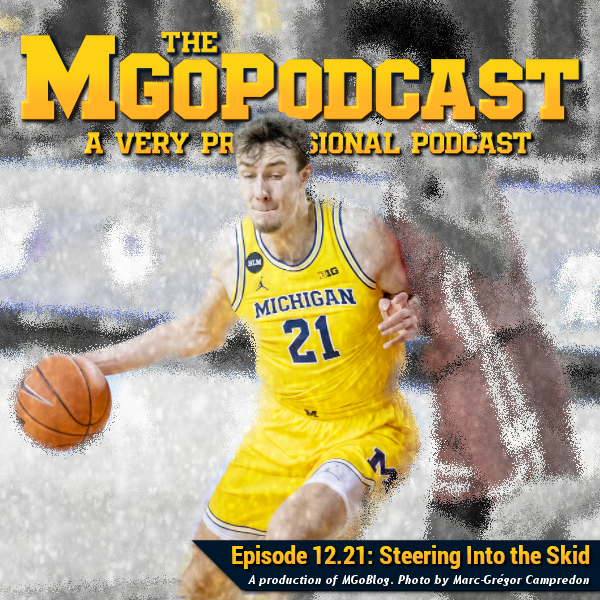 David Nasternak sitting in for Ace.
The Sponsors
Thank you to Underground Printing for making this all possible. Rishi and Ryan have been our biggest supporters from the beginning. They're also behind our Ann Arbor Institutions t-shirt program. They have awesome custom tees and hoodies and low, affordable prices. They also have tons of great Michigan apparel that you can wear proudly to support the maize and blue! Check out UGP's holiday gift guide at ugp.io/holidaygiftguide and use the promo code NEWYEAR for 25% off your next purchase!
Our associate sponsors are also key to all of this: HomeSure Lending, Ann Arbor Elder Law, the Residence Inn Ann Arbor Downtown, Michigan Law Grad, Human Element, The Phil Klein Insurance Group, and Information Entropy, and introducing the Raw Power app for iOS by Gentleman Coders.
1. Sports! Basketball vs. Wisconsin
starts at 1:00
Other than Eli's offense and everybody else's in the first half it went as you might expect it to go when a projected 1-seed coming off a three-week hiatus visits a [checks notes] 3-seed. Switching defense was the key in the second half. Wisconsin's Reuvers seems broken.
The rest of the writeup and the player after The Jump]
2. Around the Big Ten
starts at 28:58
This isn't all about Michigan State, nor is it all about Illinois fans thinking Michigan tried to dodge a performance that almost lost them a game to Nebraska. Ohio State continues to destroy people. Michigan State, of course.
3. Raw Takes and Gimmicky Top Five Shovelfuls of Advice for People Who Don't Live in Snowy Places
starts at 51:37
We should all be very good at staying home by now.
4. Ace's Hockey Podcast
starts at 1:10:01
Michigan splits with Wisconsin, which is up there with Minnesota as the most dominant team in the Big Ten. Portillo starts and does alright. Rust not a huge issue but the Badgers' talent is.
MUSIC:
"A Hazy Shade of Winter"—Simon & Garfunkel
"Grey Ice Water"—Modest Mouse
"20 Years of Snow"—Regina Spektor
"Across 110th Street"