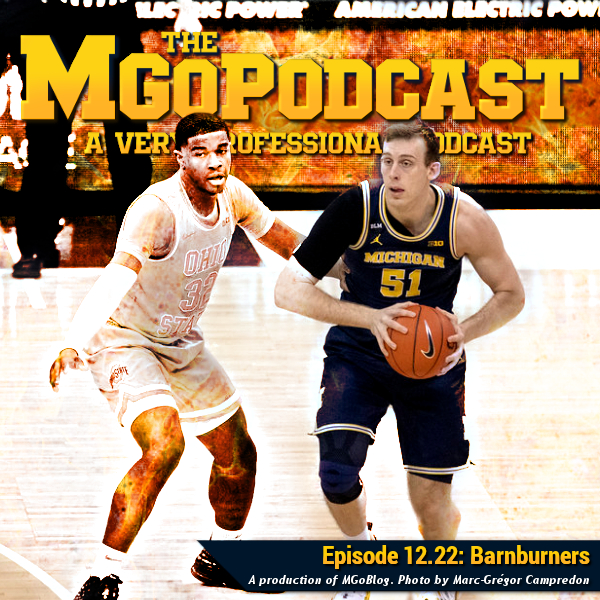 1 hour and 39 minutes, wsg the Sklars Brothers to promote our Roast of John U Bacon
The Sponsors
"Thank you to Underground Printing for making this all possible. Rishi and Ryan have been our biggest supporters from the beginning. They're also behind our Ann Arbor Institutions t-shirt program. They have awesome custom tees and hoodies and low, affordable prices. They also have tons of great Michigan apparel that you can wear proudly to support the maize and blue! Check out their wide selection of officially licensed Michigan fan gear at their 3 store locations in Ann Arbor or learn about their custom apparel business at undergroundshirts.com."
And let's not forget our associate sponsors: HomeSure Lending, Ann Arbor Elder Law, the Residence Inn Ann Arbor Downtown, Michigan Law Grad, Human Element, The Phil Klein Insurance Group, and Information Entropy, and introducing the Raw Power app for iOS by Gentleman Coders.
1. The Game, Which is The Game this year
starts at 1:00
That and that and that and the other thing and then yes, the officiating.
The rest of the writeup and the player after The Jump]
2. Rutgers
starts at 26:35
Anyone remember this game? Oh right, Pikiell admitted they're going to settle for bad twos and then they did.
3. Raw Takes, Football Coaches, Around the Big Ten
starts at 38:27
We manage to keep it on the rails long enough to talk about Illinois before descending into Michigan State basketball talk. Three of five, baby! MSU is on a roll!
4. The Sklars and a Gimmicky Top Ten Barnburners
starts at 1:10:01
We bring in the Sklars to talk about our John U Bacon roast on March 6 to save the Ann Arbor Comedy Showcase. Then we play the Feud, as the Brothers Sklar have to guess our top ten Michigan barnburners in the last 20 years.
MUSIC:
"The Heat"—Jungle
"Sleep Now in the Fire"—Rage Against the Machine
"The Barn Tapes"—Andrew Bird
"Across 110th Street"