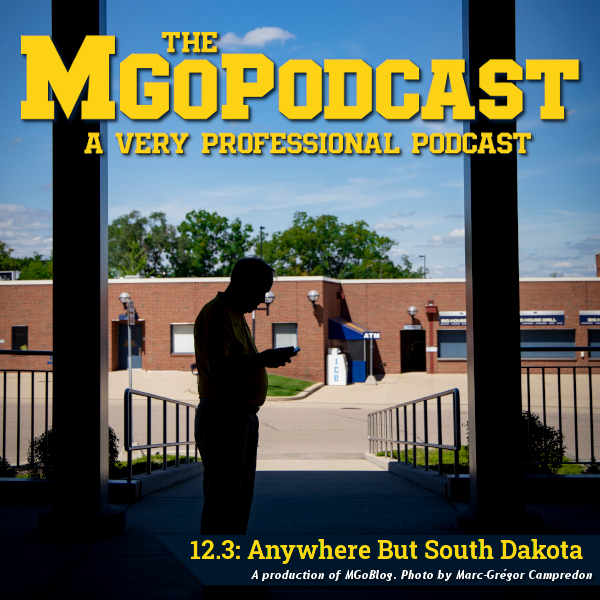 We can do this because people support us. You should support them! The show is presented by UGP & The Bo Store, and if it wasn't for Rishi and Ryan we'd be furloughed SBNation writers right now. Proceeds from the "Those Who Stay Home" collection are going to support our front line workers at Michigan Medicine. Our associate sponsors are also key to all of this: HomeSure Lending, Ann Arbor Elder Law, the Residence Inn Ann Arbor Downtown, Michigan Law Grad, Human Element, The Phil Klein Insurance Group, FuegoBox, and introducing Information Entropy.
[Hit THE JUMP for the writeup and the player]
1. How're the Hoops Going to Go?
starts at 1:00
How's the COVID going? What does it mean for Big Ten Basketball?
[The rest of the writeup and the player after The Jump]
2. The Freshman Class After Review
starts at 18:39
Half the battle for a cornerback is sticking with a guy. Three hundred pounds does not mean 300 pounds. Coulda used a DT or three.
3. Gattis Has a Presser
starts at 49:35
Where we constantly ask each other if Nico is coming back.
4. Hot Takes and Gimmicky Top Worst Reasons to Get COVID
starts at 1:07:59
Here are the links to Ace's top five:
MUSIC:
"They Are Night Zombies!! They Are Neighbors!! They Have Come Back From the Dead!! Ahhh!"—Sufjan Stevens
"All Arise!"—The Decemberists
"All Star—Don't Stop Comin Edition"—Smash Mouth
"Across 110th Street"