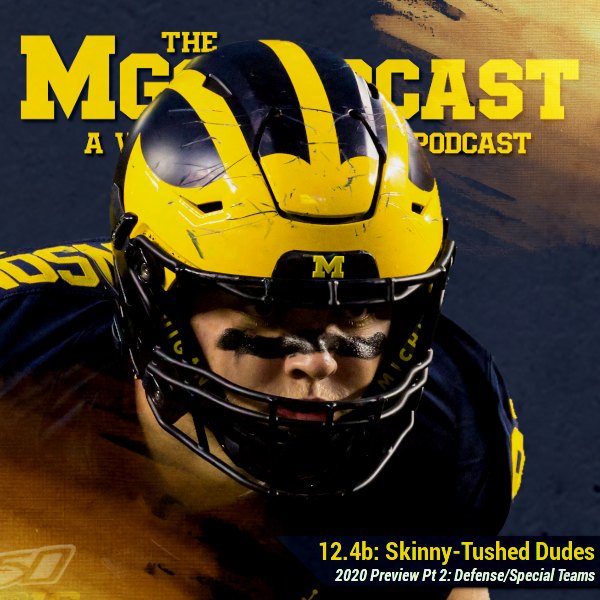 We'll have to use some authoritarian leader from Germany's past
We are back because we are supported by awesome sponsors. The show is presented by UGP & The Bo Store, and if it wasn't for Rishi and Ryan I would be a trade magazine editor with uncool t-shirts.
Our associate sponsors are also key to all of this: HomeSure Lending, Ann Arbor Elder Law, the Residence Inn Ann Arbor Downtown, Michigan Law Grad, Human Element, The Phil Klein Insurance Group, FuegoBox, and Information Entropy.
1. Defensive Line
starts at 1:00
The tackles are deeper and the ends are amazing, with all kinds of interesting new depth. Kwity Paye is the #1 freak of the year, and Aiden Hutchinson is the guy we think might be a 1st or 2nd rounder next year. So why are we so afraid? Oh right, because last year they were playing Carlo Kemp at nose and Jess Speight when they didn't have Kemp.
[The rest of the writeup and the player after The Jump]
2. Linebackers
starts at 26:12
A wildman and the safe man. Josh Ross looked good at WLB before looking not as good (against Wisconsin) at MLB then spending the year redshirting. Cam McGrone done busted out and is Bush if Bush wasn't born a savant. We expect Michael Barrett to take over the Viper spot, and be the backup WLB, but things get interesting when you imagine how Solomon figures into that.
3. Secondary
starts at 44:17
Oh dear. We recorded this before Faustin and Dax flipped who's getting tried at cornerback but the fear still applies. Not that we need to fear all of it, if Seth would stop reminding us that Ohio State gets to feast on them again this year. Clone Dax Hill.
4. Hot Takes & Special Teams
starts at 1:08:15
SLAP is our new punting stat and Michigan's punters are good at it. Percent returned is bad but we know why. Who's the punt returner? We want anyone but Ronnie Bell.
MUSIC:
"Back to the Middle"—Deerhunter
"Whatcha See is Whatcha Get"—The Dramatics
"Motion Sickness"—Phoebe Bridgers
"Across 110th Street"
THE USUAL LINKS: