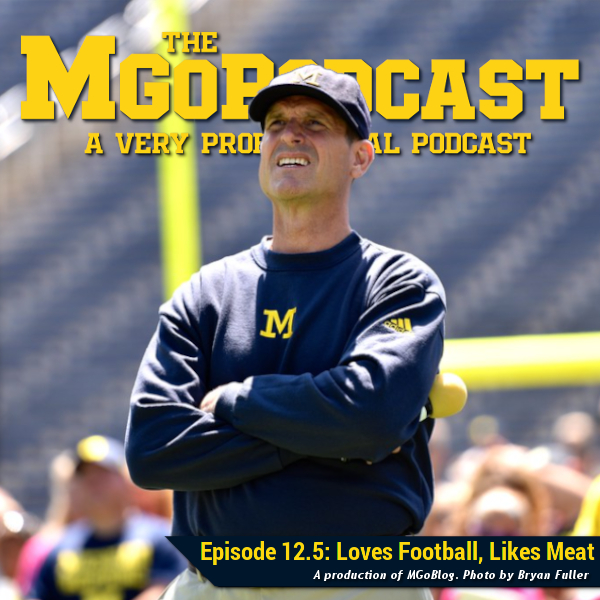 This episode was recorded before a live Zoom audience from the UM Alumni Club of D.C. A portion of what the people who came paid will go to the scholarship fund.
We are, as always, presented by UGP & The Bo Store, and if it wasn't for Rishi and Ryan I might have a very popular podcast on environmental engineering. Our associate sponsors are also key to all of this: HomeSure Lending, Ann Arbor Elder Law, the Residence Inn Ann Arbor Downtown, Michigan Law Grad, Human Element, The Phil Klein Insurance Group, FuegoBox, and Information Entropy.
Also my audio turned off in the middle of it, which got screwy.
1. Football Bits
starts at 1:00
Vastardis: "Very smart, loves meat, likes football – a lot!" –Jim Harbaugh. Nico Collins is not on the roster. Charles Thomas transfers, again with nowhere to go. How much of Minnesota has COVID? Michigan's been lucky/good to only have two contained outbreaks over the summer. Filiaga wins the guard job.
[The rest of the writeup and the player after The Jump]
2. Gimmicky Top Five
starts at 14:54
We invite John Coleman from the UM Alumni Club of D.C. to name our five breakout players. Seth comes up with terrible (amazing) nicknames for his answers.
3. Hot Takes & Q&A Session, Part I
starts at 45:16
How hopeful are we for the season? How many Big Ten games will be canceled for COVID? Who's this year's Cam McGrone? How's the morale? Who does Michigan play in the Showcase? Chris Evans this time? How's hockey Ace?
4. Q&A Session, Part II
starts at 1:07:41
Warde Manuel: how's he doing? How does NIL change recruiting? How does the 2021 class finish? Who's covering Rashod Bateman? Why did Dylan leave? Impact freshmen? How's Jim's intensity?
MUSIC:
"New Cannonball Blues"—TV On the Radio
"Campfire"—Kevin Morby
"Bullet for the Bagman"—Menahan Street Band
"Across 110th Street"
THE USUAL LINKS: