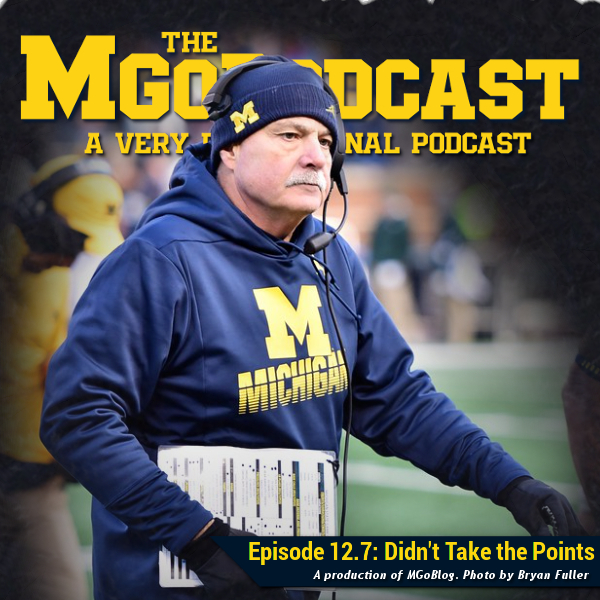 We are, as always, presented by UGP & The Bo Store, and if it wasn't for Rishi and Ryan I might be doing a podcast on how the election might affect environmental regulations in water & wastewater. Our associate sponsors are also key to all of this: HomeSure Lending, Ann Arbor Elder Law, the Residence Inn Ann Arbor Downtown, Michigan Law Grad, Human Element, The Phil Klein Insurance Group, FuegoBox, and Information Entropy.
1. Offense
starts at 1:00
The QB runs were absent and so was the interior run game, which was terrifying because their DL were beating up our OL. Another offense that can't throw more than 15 yards downfield: touch passes sail 20 yards over their receivers.
[The rest of the writeup and the player after The Jump]
2. Defense
starts at 21:59
The 3-3-5 continues to get gashed. Michigan hasn't recruited a cornerback who can run since Ambry Thomas.
3. Basketball & Hot Takes
starts at 37:35
But hey, 5-star recruit. Will Jimmy Howard win a title in the next five years?
4. Around the Big Ten wsg Jamie Mac
starts at 1:00:33
Well it turns out the defense of Minnesota is horrible, Ohio State does horrible things to people, Illinois stayed in a game with their fourth string quarterback, Indiana is a powerhouse now apparently, and oh dear Northwestern-Iowa is some terrible football.
MUSIC:
"Stardust"—Willie Nelson
"Drunk on the Moon"—Tom Watts
"Drown"—Chastity Belt
"Across 110th Street"