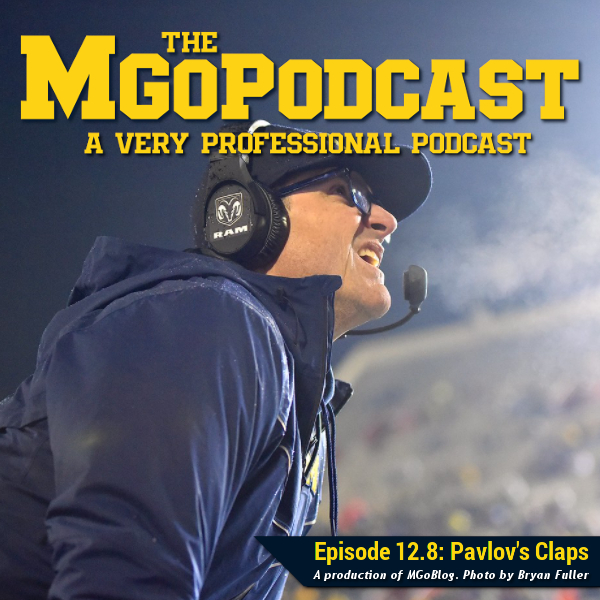 We are, as always, presented by UGP & The Bo Store, and if it wasn't for Rishi and Ryan I might be doing a podcast on how the election might affect environmental regulations in water & wastewater. Our associate sponsors are also key to all of this: HomeSure Lending, Ann Arbor Elder Law, the Residence Inn Ann Arbor Downtown, Michigan Law Grad, Human Element, The Phil Klein Insurance Group, FuegoBox, and Information Entropy.
1. Emotional Check-In
starts at 1:00
How much did you watch? The problem with hiring Jim Harbaugh is what does Michigan do if he doesn't work? Is it just us? It's us.
[The rest of the writeup and the player after The Jump]
2. Hot Takes and Offense
starts at 20:52
Joe was fine, the running game was not. Why are you turning your quarterback's back against THIS TEAM? Why are you trying to test the edges of a defense that blitzes the edges? Do you even watch opponent film?
3. Defense
starts at 41:12
What was it about those specific claps that were different than all the other claps? Was it the tone? I don't understand. Tom Allen put some sort of deep sleeper in the program and had them hypnotize Michigan defensive linemen
4. Around the Big Ten wsg Jamie Mac
starts at 57:41
The scouting is good. Michael Penix-Peyton Ramsey grudge match.
MUSIC:
"Deadlines (Hostile)"—Car Seat Headrest
"Coming Down From Love"—Bobby Caldwell
"Let Yourself Go"—Syl Johnson
"Across 110th Street"