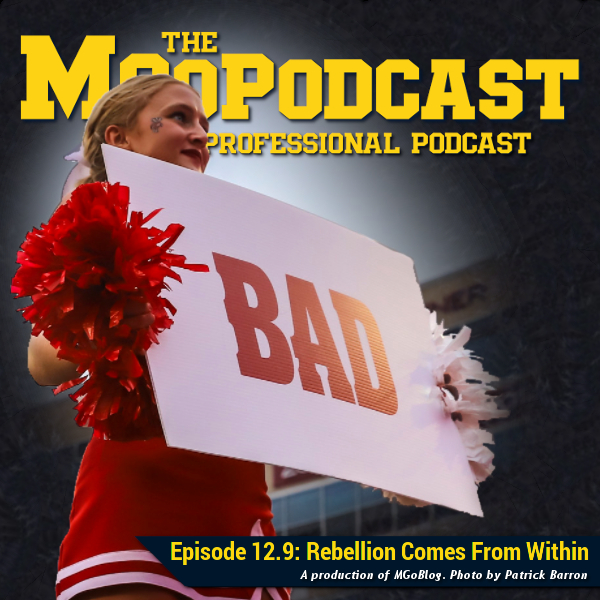 Special Guest: MGo-Hockey correspondent David Nasternak
We are, as always, presented by UGP & The Bo Store, and if it wasn't for Rishi and Ryan I might be doing a podcast on how the election might affect environmental regulations in water & wastewater. Our associate sponsors are also key to all of this: HomeSure Lending, Ann Arbor Elder Law, the Residence Inn Ann Arbor Downtown, Michigan Law Grad, Human Element, The Phil Klein Insurance Group, FuegoBox, and Information Entropy.
1. The Wisconsin Disaster
starts at 1:00
We started off badly and have some injuries so we're just going to half-ass this terrible segment and try to get it over with as soon as possible. But it wasn't a sad field goal. Hey yo!
[The rest of the writeup and the player after The Jump]
2. 2020-'21 Basketball Preview: The Backcourt
starts at 16:25
A bit shaky situation but a lot of options. Mike Smith is hard to extrapolate because he's a spot-up shooter in a bad league who probably should have had more assists if his guys could convert at all. Small so may be a defensive liability. For those situations you have Eli Brooks, who goes on Three-li streaks and brings a defensive presence, but we can directly correlate his shooting to bad defenses, and his floater hasn't happened yet. At the two we're probably looking at Chandee Brown and Franz Wagner (when he's not the three). Franz came on late last with his drives, though he's going to need to be much more of a creator. Hope the wrist injury explains the shooting issues. Defense really came along—still growing and has those gumby arms. Down-roster contributions as they come: can Nunez at least be a shooter? Can we get more than freshman stuff out of Zeb Jackson?
3. Hot Takes and Hockey
starts at 39:55
Is Arizona State not good? ASU's been inflating their tournament resume. Even Moyle got a Hensick move on these guys. Defensemen hopping up, seeing Cam York the first rounder. Reality check line. All-effort line. Power play is unstoppable unless there's an extra stick on the ice, penalty kill had five shots and two breakaways vs six shots and zero scoring chances. Wisconsin has a grad transfer goalie and some talent to skate with Michigan.
4. Around the Big Ten wsg Jamie Mac
starts at 1:06:07
The scouting is good. Michael Penix-Peyton Ramsey grudge match. Maryland took the COVID way out against Ohio State. Michigan State is very much not good. Minnesota is very much not good either. Michigan-Rutgers for the bottom of the Big Ten East or is Penn State still in the running?
MUSIC:
"Heat Wave"—Snail Mail
"The Motivator"—T.Rex
"That Old Pair of Jeans"—Fatboy Slim
"Across 110th Street"