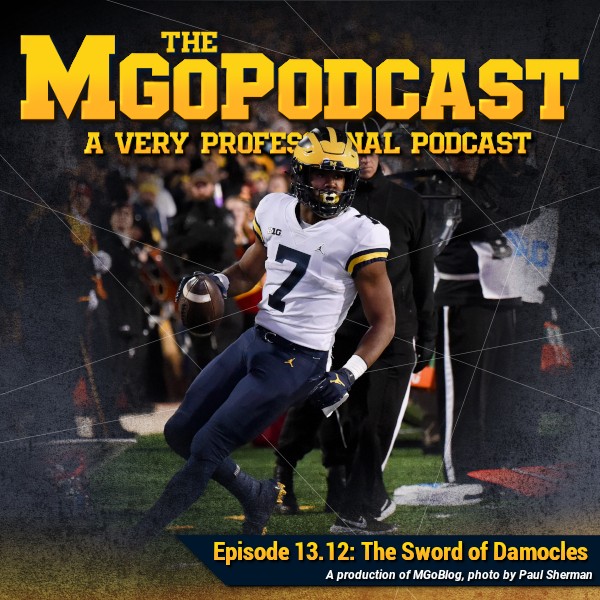 1 hour and 16 minutes
The Sponsors
Thank you to Underground Printing for making this all possible. Rishi and Ryan have been our biggest supporters from the beginning. Check out their wide selection of officially licensed Michigan fan gear at their 3 store locations in Ann Arbor or learn about their custom apparel business at undergroundshirts.com.
And let's not forget our associate sponsors: Peak Wealth Management, HomeSure Lending, Ann Arbor Elder Law, Michigan Law Grad, Human Element, The Phil Klein Insurance Group, SignalWire (use the code MUPPETS), Prentice 4M, where we recorded this, Team Fan Club, and introducing The View from the Cheap Seats podcast by the Sklars, who will now be joining us for the Hot Takes segments. Please go subscribe and like their podcast, and leave your hot takes about this game in the reviews.
1. Offense
starts at 1:00
Why are we playing an ACC team? Harder to appreciate a blowout with what's coming next. What other team is walking to their doom at the end of the season every year? Cade goes 75% on completions for >10 yards per completion - helped out by some spectacular catches. Donovan Edwards has more receiving yards in this game than Chris Evans did in any single season. Hassan Haskins only gets 78 yards at 3.9 YPC, does not help that Cade will not keep the ball on a read. JJ McCarthy shows some flashes in this one, including a reminiscent Denard-first-snap play. McCarthy extends a play that Cade probably would have otherwise thrown away. 
[The rest of the writeup and the player after THE JUMP]
2. Defense
starts at 26:48
Ground game defense feels a little bit concerning considering Maryland is a team that does not run well. Not great signs for Ohio State. Solutions on what to do when being blatantly held - just go down? Did a nice job holding Rakim Jarrett to two receptions. Michigan is #4 in SP+, and yet are 8.3 points behind Ohio State, which is huge. Hard to be happy about being #4 because we have a Sword of Damocles. 
3. Hot Takes, Special Teams, and Game Theory
starts at 41:54
Takes so hot they look like Mike Locksley after his team takes multiple red zone penalties on the same drive. Locksley's facial expressions are far too relatable to an exasperated dad. Jay Harbaugh - best coach on staff? Not a hot take, just a question. Kick return trick play won't work against Ohio State since Ohio State doesn't pooch kick. 
4. Around the Big Ten, wsg Jamie Mac
starts at 56:44
Michigan State's pass defense was, uh... thoroughly exposed. Michigan just has to not lose that badly to go to the Rose Bowl. Nebraska doing what Nebraska does - losing to a ranked team by one score. Nebraska is ranked #33 in SP+, Michigan State is #34. Braelon Allen is emerging as a consistent runner for Wisconsin. Minnesota plows through the erotic rotting corpse of Indiana football. Indiana is a loss to Purdue away from being winless against Power 5 teams for the first time since Kevin Wilson. Looking at the boxscore, how did Iowa win by 10? P00N results in Brian setting the rules for all M00N related scoreboard jokes. Rutgers couldn't score once against a flu-ridden Penn State team. 
MUSIC:
"The Man"--Aloe Blacc
"You're Dead"--Norma Tanega
"Love the One You're With"--The Isley Brothers
"Across 110th Street"