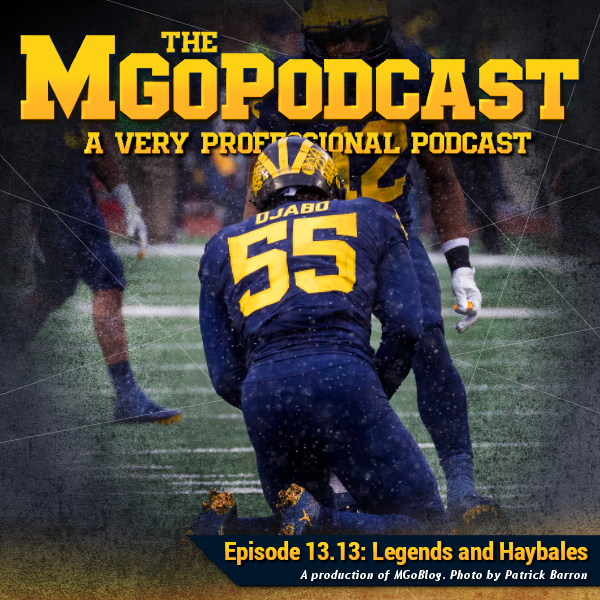 2 hours and 8 minutes
The Sponsors
Thank you to Underground Printing for making this all possible. Rishi and Ryan have been our biggest supporters from the beginning. Check out their wide selection of officially licensed Michigan fan gear at their 3 store locations in Ann Arbor or learn about their custom apparel business at undergroundshirts.com.
And let's not forget our associate sponsors: Peak Wealth Management, HomeSure Lending, Ann Arbor Elder Law, Michigan Law Grad, Human Element, The Phil Klein Insurance Group, SignalWire (use the code MUPPETS), Prentice 4M, where we recorded this, Team Fan Club, and introducing The View from the Cheap Seats podcast by the Sklars, who will now be joining us for the Hot Takes segments. Please go subscribe and like their podcast, and leave your hot takes about this game in the reviews.
1. Offense
starts at 1:00
Reminiscing on legends that faded away in past Ohio State game losses like Khalid Hill's 4th and 1 touchdown, Denard's long run in the Shoe, and Devin Gardner putting up 41 points on a broken foot. This year's performances from the likes of Aidan Hutchinson, Hassan Haskins, and the offensive line will never be forgotten. Message to the fans: you do not have to act like you've been there before. Michigan's 41 rush attempts (including two kneel downs) absolutely dominated this game. What happened to Ohio State mentally? They seemed rattled all game and panicked. Michigan offense goes back to some old school Jim Harbaugh packages and also used the specific skills of their backup quarterback in the biggest game of the year. The offense gave up zero tackles for loss in this game. You watch Michigan's offensive line handle Ohio State's defensive line in person and think "how is this happening?" And then you rewatch the game on tv and think "how is this happening???" Ohio State's cornerbacks do not know how to play press coverage. Brian has decided that flea flickers are underutilized. Cade's interception is really his only major mental mistake. Cameron Brown is now officially on the Fools Hurdled list.
[The rest of the writeup and the player after THE JUMP]
2. Defense
starts at 40:20
Ohio State puts up nearly 500 yards of offense, but this happens to everyone. Michigan was able to tighten up near the redzones. They were only able to get into the endzone after escaping from tough situations, Michigan defense made them work for it. The performance of Michigan's defensive line almost cannot be explained. Ojabo is not-just-a-shooter- wait, NFL scouts if you're reading this, ignore that. Aidan Hutchinson for Heisman, but unironically. According to PFF he had 15(!!!) QB pressures which is the most PFF has ever recorded since they started recording college football. Aidan Hutchinson won Michigan this game. Josh Ross had a critical 3rd and short that he blew up, Michigan scores on the ensuing drive. Rod Moore started as a true freshman against Ohio State and it was just fine. The organization of this Michigan defense is outrageously good. The cornerbacks got hit a few times but overall held up fine and didn't get beaten. CJ Stroud gets in his own head a bit when under pressure and was susceptible to Michigan's pass rush. Macdonald threw a pro style defense at CJ Stroud and he wasn't able to handle it. The offseason reboot worked.
3. Hot Takes, Special Teams, and Game Theory
starts at 1:08:57
AHHHHHHHH. Brian's voice requires a surge protector, has a hot soup take. Is this the most satisfying win ever since the creation of MGoBlog? Realistic talks about a run in the college football playoffs. Ohio State commits THE CLASSIC BLUNDER of not going for two early. Michigan's 4th down decision making made sense. No field goal attempts from Michigan because they didn't need to. Why did the Ohio State player field a kick from the three yard line? AJ Henning muffed a punt but probably should have drawn a kick catch interference call. Not much to talk about with officiating! Brian has a fan experience story.
4. Around the Big Ten, wsg Jamie Mac
starts at 1:35:26
Nebraska finishes 1-8 in conference play with a scoring margin of zero - all of college football twitter was dialed in on it. Nerbaska vs Iowa is a great rivalry - the team that can't punt vs the team that knows best how to punt. It's hard to see Iowa looking like a team that's going to keep up with Michigan in the Big Ten Championship game. Iowa doesn't know who their starting QB is going to be, yet. Jamie says the most Iowa sentence ever. Wisconsin's offense collapses against Minnesota. Wisconsin almost punts from the Minnesota 35 on 4th and 1, takes a penalty, and converts the 4th and 6. If Minnesota didn't blow it against Illinois, they would've been in the Big Ten Championship game and forced a battle for the Jug. Twitter has some strong opinions about punting from the opposing 35. MSU converts a flea flicker - everyone should run a flea flicker at least once per week. Is Penn State in trouble going into next year? They may need to hit the transfer portal hard. Purdue had a solid 8-4 season, Indiana not so much. Nick Sheridan is out at Indiana. Illinois gets The Hat for the first time in years. Brandon Peters claimed to be the only person in the locker room to go 2-0 yesterday. Maryland goes 6-6 and makes a bowl game, Bryan Mackenzie will have to wait another year for Rutgers to make a bowl. The Michigan Rutgers game is really weird in hindsight.
MUSIC:
"Linus & Lucy"--Vince Guaraldi
"Sweet Revenge"--John Prine
"Baby Come"--Cut Worms
"Across 110th Street"