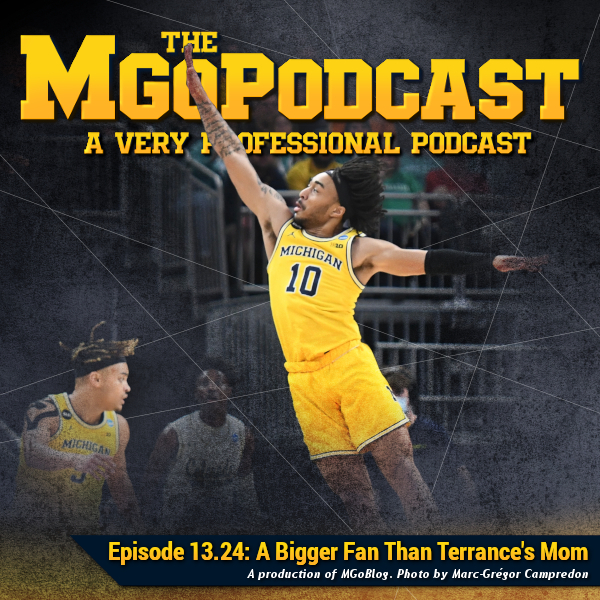 1 hour and 39 minutes
NOTE: Brian's audio was cutting in and out. We managed to glue parts together and recording him on a separate track later in the show but there are bits that were just lost.
The Sponsors
Thank you to Underground Printing for making this all possible. Rishi and Ryan have been our biggest supporters from the beginning. Check out their wide selection of officially licensed Michigan fan gear at their 3 store locations in Ann Arbor or learn about their custom apparel business at undergroundshirts.com.
And let's not forget our associate sponsors: Peak Wealth Management, HomeSure Lending, Ann Arbor Elder Law, Michigan Law Grad, Human Element, The Phil Klein Insurance Group, SignalWire (use the code MUPPETS), Prentice 4M, where we recorded this, Team Fan Club, and introducing The View from the Cheap Seats podcast by the Sklars, who will now be joining us for the Hot Takes segments. Please go subscribe and like their podcast,and leave your hot takes about this game in the reviews.
1. Tennessee
starts at 1:00
Really exploring the space is a reference to the more cowbell sketch. Michigan couldn't keep up with the speed of the Vols' guards but it didn't matter because Tennessee hadn't played Eli "Hooks" or anything like Dickinson, who turned questionable possessions into good ones. Huge game for Williams, but for four turnovers it's the Brooks game. We can rely on Collins because he's so quick. We know what this looks like: Xavier Simpson.
2. Colorado State
starts at 29:20
The Frankie Collins game. What he did to Isaiah Stevens changed the game. Michigan also managed to hold Roddy outside, which when you're taking away usage from him it's going to less effective players. Those less effective guys unfortunately were canning all of their threes, and all the bounces went the Rams way, which led to the frustrating parts of the first half. Medved did a great job to get Hunter Dickinson switched onto tiny guys. Solution was as soon as they got some space Frankie took it away. Also one turnover! Also 65% from two!
3. Hot Takes and Villanova Preview
starts at 44:07
Defending Rick Barnes, a new shot clock rule based on icing. Too hype on Frankie and Terrance? Nova: They're small, they shoot, they bring more smallness and shooting off the bench. #1 team at free throws. 46% of their shots are threes. Can Michigan keep up with Dickinson scoring? The fickle mistress of the arc will decide this game. Gillespie played against Michigan in the national championship game, has come very far since. Big East was a shooting league--hopeful they're not ready for Big Ten bigs.
4. Hockey Big Ten Tourney Champs & Tourney Preview
starts at 1:12:24
Minnesota fans in Rod Marinelli Arena livid at obvious calls >>>>> Allentown regional. Seth is at fault for the ending of the Minnesota game, but it was a clinic from 1 minute in to the rest there at the Bobby Ross center. This felt different than previous games at Wayne Fontes Rink: fans were really into it and that made it an epic game you really wanted to win. It also secured the first overall seed and basically the dream scenario for the tournament, since Minnesota State got both NoDak and NoDam, and Michigan got a couple of teams who will actually play hockey. Frozen Four favorites? Certainly. But single-elimination hockey in front of zero fans is stupid.