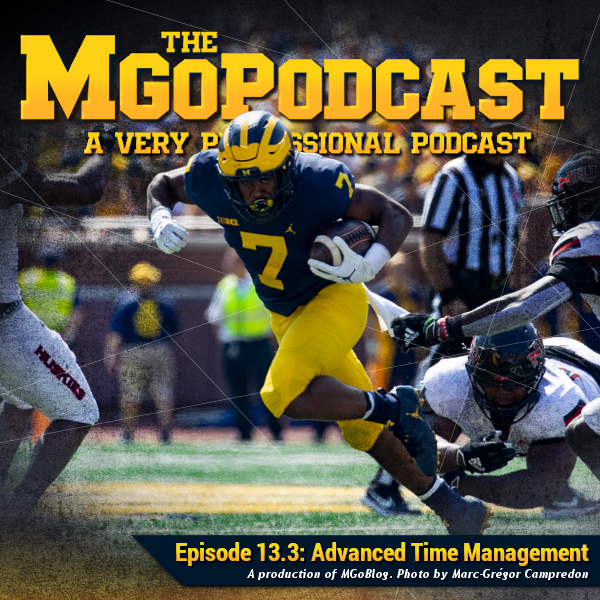 1 hour and 25 minutes
The Sponsors
Thank you to Underground Printing for making this all possible. Rishi and Ryan have been our biggest supporters from the beginning. Check out their wide selection of officially licensed Michigan fan gear at their 3 store locations in Ann Arbor or learn about their custom apparel business at undergroundshirts.com.
And let's not forget our associate sponsors: HomeSure Lending, Ann Arbor Elder Law, the Residence Inn Ann Arbor Downtown, Michigan Law Grad, Human Element, The Phil Klein Insurance Group, Information Entropy, the Raw Power app for iOS by Gentleman Coders, SignalWire (use the code MUPPETS and they'll buy your team lunch!), and this episode was supposed to be recorded at Prentice 4M, on the other end of The Bridge. Take their survey to decide what to do with Lucky's.
1. Offense vs NIU
starts at 1:00
That was thorough. Takes us 15 minutes to bring up the passing game. The rushing game has a diversity of power instead of inside zone—split zone is really their IZ. It all works.
[The rest of the writeup and the player after THE JUMP]
2. Defense vs NIU
starts at 25:06
Also quite thorough. Michigan has never seen a QB keeper on an arc read (because they never see it in practice—zing!). Scripted drive put the DTs on edge duty, that got cleaned up. No attempts downfield Rocky? Ready for the Stanford 4th and 1 fire drill.
3. Hot Takes, Special Teams, and Game Theory
starts at 37:03
Why are they kicking a field goal on 4th and 2 on their only successful drive? Seth thinks they had Caden Kolesar out there for Washington because he's a vet and the atmosphere wasn't going to bother him, but the plan was to go with AJ Henning all along. One that he let bounce showed why, what happened after that also showed why it was a good plan. Congrats to the specialists on their day off.
4. Around the Big Ten, wsg Jamie Mac
starts at 51:58
Nebraska's defense holding Oklahoma to a manageable score is more surprising than Oklahoma's defense allowing Nebraska to shorten the game. Ohio State's defense is…bad? Does it matter? Michigan State faced a Miami team that punches itself in the face, but their new RB is legit. New Jersey defeated a maize and blue team with wings on their helmets.
MUSIC:
"Paving the Runway"—JJ Heller
"Running Away"—Freak Power
"Mr. Blue Sky"—cover by Mayer Hawthorne
"Across 110th Street"