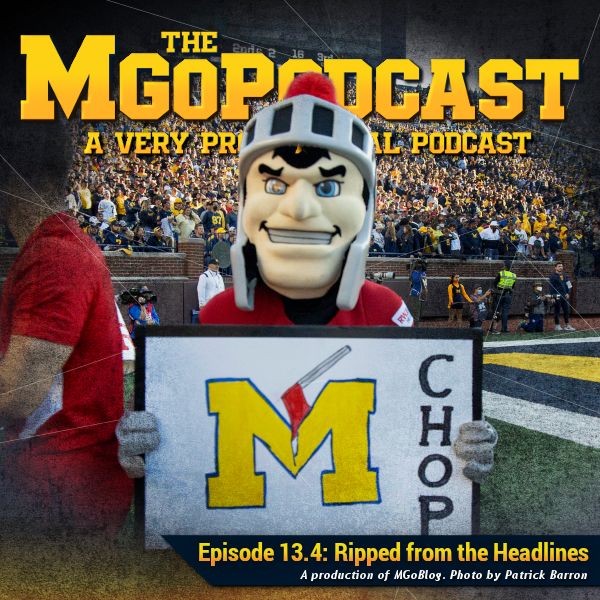 1 hour and 23 minutes
The Sponsors
Thank you to Underground Printing for making this all possible. Rishi and Ryan have been our biggest supporters from the beginning. Check out their wide selection of officially licensed Michigan fan gear at their 3 store locations in Ann Arbor or learn about their custom apparel business at undergroundshirts.com.
And let's not forget our associate sponsors: Peak Wealth Management, HomeSure Lending, Ann Arbor Elder Law, Michigan Law Grad, Human Element, The Phil Klein Insurance Group, SignalWire (use the code MUPPETS), Prentice 4M, where we recorded this, and introducing The View from the Cheap Seats podcast by the Sklars, who will now be joining us for the Hot Takes segments. Please go subscribe and like their podcast, and leave your hot takes about this game in the reviews.
1. Offense vs Rutgers
starts at 1:00
Signs in the first drive, great play-action and RPOs on the second drive, then they ran out of ideas and kept running into stacked boxes like they'd never scouted this team and what they do. RBs are going to come in for some minuses. Vastardis got roasted by the slanting nose. DID NOT TEST THE EDGES VS THOSE INSANE SAFETIES UNTIL 5 MINUTES LEFT WHAT ARE WE DOING HERE?
[The rest of the writeup and the player after THE JUMP]
2. Defense vs Rutgers
starts at 21:05
Also not great. Rutgers ran a lot of college stuff, Michigan ran out a lot of DTs, Hutchinson was rampant, refs were unkind to us here and both teams on deep passes.
3. Hot Takes, Special Teams, and Game Theory
starts at 35:25
The Sklars join us for the Hot Takes segment. Brad Robbins is not Jesus (in case you were wondering). Moody missed a field goal, RU missed too. Lots in the Game Theory segment, starting with Rutgers going for it at the end of the half on 4th and 10. And then Michigan not running a play with 5 seconds left. And lots more.
4. Around the Big Ten, wsg Jamie Mac
starts at 56:22
How long can we spend on Minnesota-Bowling Green? Long enough to name every Carr assistant and player, and not long enough to get to the implications for teams who may have been losing to Minnesota in the 4th quarter this year.
MUSIC:
"Drivers"—John Andrews and the Yawns
"Jesus Was a Cross-Maker"—Judee Still
"Good Intentions"—The 1AM Radio
"Across 110th Street"