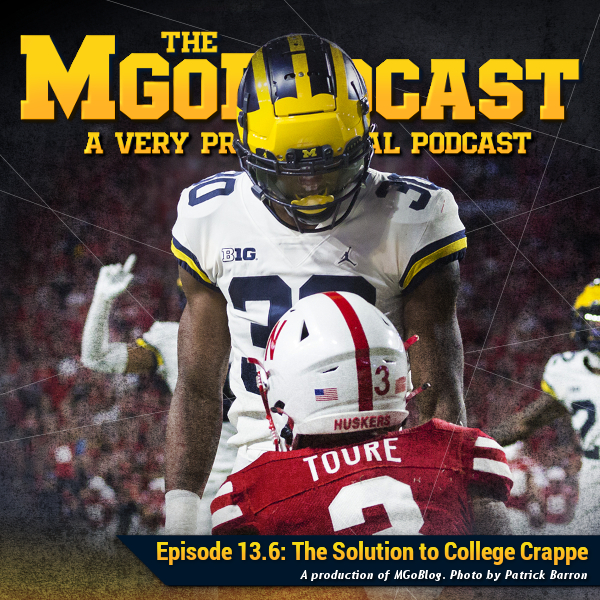 1 hour and 32 minutes
The Sponsors
Thank you to Underground Printing for making this all possible. Rishi and Ryan have been our biggest supporters from the beginning. Check out their wide selection of officially licensed Michigan fan gear at their 3 store locations in Ann Arbor or learn about their custom apparel business at undergroundshirts.com.
And let's not forget our associate sponsors: Peak Wealth Management, HomeSure Lending, Ann Arbor Elder Law, Michigan Law Grad, Human Element, The Phil Klein Insurance Group, SignalWire (use the code MUPPETS), Prentice 4M, where we recorded this, and introducing The View from the Cheap Seats podcast by the Sklars, who will now be joining us for the Hot Takes segments. Please go subscribe and like their podcast, and leave your hot takes about this game in the reviews.
1. Offense vs Nebraska
starts at 1:00
Better in numbers than it felt. Sort of a Washington game but with dinky doo passing. The TE leak stuff was something they saw on film and kept working. McCarthy's arc read worked when they thought it was Cade, but they need a pop pass or something off of it because it's too obvious late. Had to use multiple guards—Stueber wrecked. Appreciation for the running backs—greatest hurdle of all time? McNamara deep accuracy, where'd you go?
[The rest of the writeup and the player after THE JUMP]
2. Defense vs Nebraska
starts at 23:45
Nebraska is very good at college crappe, not very good at fundamental football. DTs have a very good day again, impressive that Mazi Smith could keep going after the opening screen. Jenkins had the 3rd down stuff. Hinton was great. They're not pass rushers however, which is still a step-up problem. Michigan had crappe as well, especially when Morris and Hawkins played that 4th and 2.
3. Hot Takes, Special Teams, and Game Theory
starts at 47:15
Not a lot of weird decisions—both teams punted on 4th and 1 in their own territory. Special teams battle wasn't as big as we expected because of Michigan's punt returns: one flub, one ran backwards, one let bounce and lucky it went in the endzone. The rest was great: Robbins added distance to his Boom. MAAR blood in Moody.
4. Around the Big Ten, wsg Jamie Mac
starts at 1:14:03
Iowa-Penn State changed when PSU didn't have a backup quarterback, which is very hard to do in 2021 when your Will Levis can just go start at Kentucky. PSU's defense is legit: Luketa is doing the Micah Parsons stuff, and their secondary is filled with stars. MSU-Rutgers you can watch the highlights because that's all there was. Wisconsin's best RB was booted from the program. Ohio State is shoveling coal again.
MUSIC:
"You and Me "—Penny and the Quarters
"Maria También"—Khruangbin
"On the News"—Your Old Droog
"Across 110th Street"