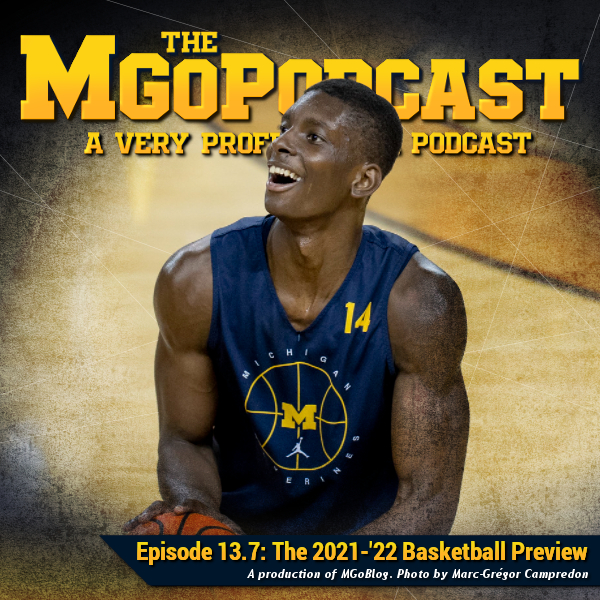 wsg Matt from Endless Motor. 1 hour and 32 minutes
The Sponsors
Thank you to Underground Printing for making this all possible. Rishi and Ryan have been our biggest supporters from the beginning. Check out their wide selection of officially licensed Michigan fan gear at their 3 store locations in Ann Arbor or learn about their custom apparel business at undergroundshirts.com.
And let's not forget our associate sponsors: Peak Wealth Management, HomeSure Lending, Ann Arbor Elder Law, Michigan Law Grad, Human Element, The Phil Klein Insurance Group, SignalWire (use the code MUPPETS), Prentice 4M, where we recorded this, and introducing The View from the Cheap Seats podcast by the Sklars, who will now be joining us for the Hot Takes segments. Please go subscribe and like their podcast, and leave your hot takes about this game in the reviews.
1. The Frontcourt (Fours and Fives)
starts at 1:00
Hunter Dickinson was pretty good, awesome in fact, and then just plain awesome as they doubled him and took away his favorite shoulder. He can develop that and/or a three. Moussa Diabate is going to be an IMPACT defender, can play the four, might develop a shot, switchable nightmare. Versatility with Brandon Johns able to play 4 or 5. He was more commanding as a starter, team X factor. Terrance Williams is about to bust out. Will Tschetter: redshirt or instant Wisconsin center?
[The rest of the writeup and the player after THE JUMP]
2. The Backcourt: Wings and Guards
starts at 32:24
Caleb Houstan is like bringing in an NBA three-and-D dude. Not going to feel like a freshman, can shoot over anyone 6'5" and lower so he could be the new Chaundee shoots it guy. Backups: all the fours and twos. Eli Brooks is the most important player on the team (no hot take). Kobe Bufkin is going to outplay his rankings—this year he's something in between freshman and sophomore Caris. Could see a jump from Zeb Jackson, or he could fall behind Isaiah Barnes. Not Jace's turn yet. Could be Frankie's turn soon but Devante Jones is your starting PG and could be an upgrade on Smith.
3. Big Ten Basketball Preview
starts at 1:06:53
Tier 1: Illinois gets back Kofi and Curbelo, Trent Frazier is a problem for Brooks, who else can play on this team? Purdue brings back everybody, can a sophomore breakout from Ivey and Edey and Newman and Gillis take them all the way? Ohio State replaced its backcourt, waiting to see if Seth Towns can take a big role. Maryland found a center and a PG to go with Ayala and Scott. Tier 2: Indiana is 2015 Michigan football. They'll put four out so TJD can work alone inside, and brought in four transfers/recruits to do it. MSU has a few dudes but can't figure out which and when to play. Iowa and Wisconsin suffered huge losses. Nebraska > Penn State and Northwestern. Are 200 teams better than Minnesota?
4. Hot Takes, and Around the Big Ten, wsg Jamie Mac
starts at 1:46:57
Signs of life from future opponents who looked like pushovers, signs of death from objects in the rearview mirror. Indiana has to be a frustrating follow, but not enough that we can wish Jamie luck on fixing that OL.
MUSIC:
"Silver Dollar"—Sierra Ferrell
"Proofs"—Mates of State
"In the Stone"—The Goon Sax
"Across 110th Street"