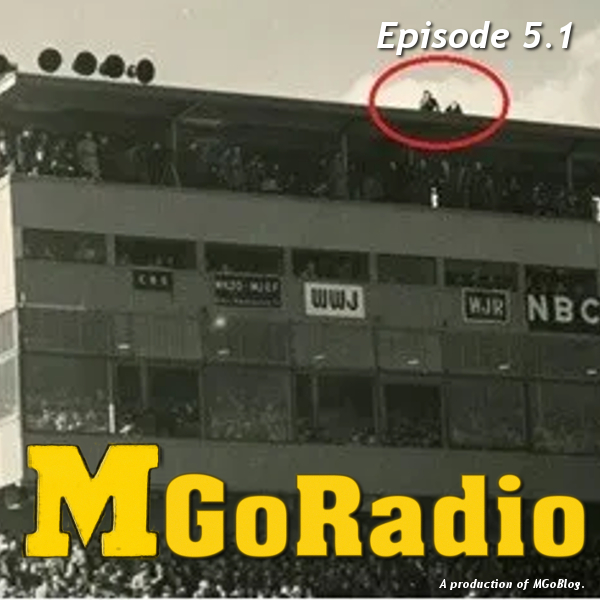 The thing about Murderwolf is he doesn't party under overpasses.
Special Guests: Greg Dooley, program writer, Michigan uniform know-it-all, and Dude of MVictors, and Craig Ross, 3,000-year-old druid.
The Sponsors
We can do this because people support us. You should support them! The show is presented by UGP & The Bo Store, who are the living embodiments of the Pitbull philosophy.
Our other sponsors are also key to all of this: HomeSure Lending, Peak Wealth Management, Ann Arbor Elder Law, the Residence Inn Ann Arbor Downtown, the University of Michigan Alumni Association, Michigan Law Grad, Human Element, The Phil Klein Insurance Group, FuegoBox, and Perrin Brewing
--------------------------------------------
[After THE JUMP: A real good time.]
1. History of Army-Michigan and Herbert O. Crisler wsg Greg Dooley
starts at 1:00
The first year of the modern winged helmet. Fritz Crisler arrived and helped to spur the development of platoon football. Army and Michigan played football in Yankee Stadium. Army weaponized the use of the draft to build an unstoppable college football team and also were among the first teams to use substitutions in college football. Brian thinks that the FCS should eliminate substitutions again. Crisler was a Chicago guy, got his nickname from Amos Alonzo Stagg himself. The 1945 sophomore class that made up much of the team became national champions as seniors in 1947, while Army won a disputed national championship in '45.
2. MTSU Recap wsg Craig Ross
starts at 32:28
Michigan could have run arc read keeper on every play and have won easily. Was probably a weird outlier to forget about going forward. Play calling for the passing offense was finally linked to the run offense. A few really nice RPO's. A bit of Big Ten West discussion: Hunter Johnson looked very bad for Northwestern but they're not on Michigan's schedule so it doesn't matter. Teams that schedule legit FCS schools (like Minnesota) don't get enough credit. Craig still likes Wisconsin. Vincent Gray needs to work on not getting eliminated from the play when blocked. Charbonnet displayed the whole package. Turner had a good game too. The receivers have to get used. McKeon seems promising. Craig likes Shea's accuracy but not his decision making. Ben Mason is not ready for big time. Josh Uche needs to play. Jordan Glasgow was a guy you wanted to seize the job of WLB and he looked like he did it. There's a spot for Dax Hill on this defense and hopefully he seizes it. The defense is far more diverse than last season.
3. Army Preview wsg Craig Ross
starts at 1:09:59
Brian finally reveals that Pitbull content origin. Army will not be fun this weekend. They build their offense around consistently getting 3 yards. They convert almost every fourth down but if you get them in 3rd and long, it's over. Army is built for upsets by limiting possessions, but they still need to get a little lucky. Michigan's offense should score on every drive in this game. The spread (Michigan -22) doesn't feel off, but there is a real chance of nervousness. Michigan hired Georgia Tech's defensive coordinator as an analyst for this game. Army is going to blitz a lot because they're undersized. Seth likes their other LB more than the captain..
4. Why Pitbull?
starts at 1:28:23
A very short segment.
MUSIC:
Every week on MGoRadio we feature a different local or friendly band. This week we're honored to have Duke Charrell from Parliament Funkadelic (George Clinton's band). Check out Duke's stuff on Spotify.
Apparently all the guys from Parliament Funkadelic are from Michigan, most are huge Michigan fans, and they all funk around with their own stuff. If you'd like your band featured on here, reach out.
"Fire & Lightning"
"Liquid Galaxies (Grains of Sand)"
"Wave (End Game)"
"Across 110th Street"